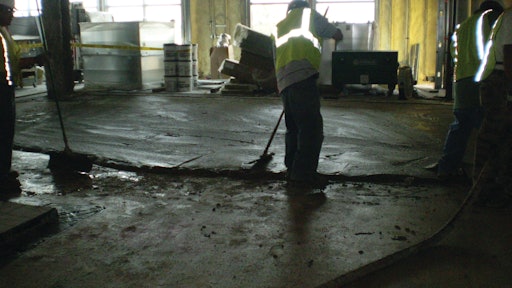 Most concrete contractors have probably worked on at least one job where site restrictions dictated the products and equipment that could be used. For Blair Duron Restoration, Wilmington, N.C., that job was the Duke University Medical Center.
Blair Duron's job was to resurface the first and fifth floors, which were being turned into operating rooms, so sheet vinyl could be applied to the floors, says Jack McDougall, Blair Duron owner and partner. The challenge, however, was the floors structurally could not handle the weight of traditional concrete so McDougall had to find a product that could give the customer the desired surface without exceeding weight limitations. An added challenge was the fifth floor used to be the roof of the medical center, so it was also sloped for drainage and needed to be leveled.
McDougall's solution was to use Drytek 3000, a lightweight cement product from Drytek Flooring Solutions. The Drytek 3000, combined with another ½ inch of Drytek 7200, offered a product with a weight of just under 30 pounds per cubic foot, McDougall says, which was well within the limitations of the floors.
After the crew shotblasted the two floors, they had to find a way to transfer the Drytek product up seven stories. The solution was two continuous mixers and an electric pump. The two mixers, which automatically mixed the correct amount of water with the Drytek 3000, were housed on ground level and connected by hoses to the electric pump. The pump was a small, 230 volt, three-phase electric pump, McDougall says.
They pumped the Drytek 3000 onto the floors then leveled and smoothed it with a gauge rake and trowels. To ensure a level floor, McDougall used a laser level. The crew pumped the Drytek 3000 to 1/2 inch below grade and then allowed it to cure for two days, McDougall says.
After the Drytek 3000 cured, the crew came back and repeated the process, this time with the Drytek 7200 self-leveling underlayment. McDougall placed a 1/2 inch of the Drytek 7200 over top the Drytek 3000 to finish the floors up to grade. "The Drytek 7200 is a better system to apply the sheet vinyl to because if there are any dents or ridges in the substrate it will show through the floor," McDougall says.
Since the Drytek 7200 is self-leveling, McDougall says they only need a gauge rake and smoother to ensure a substrate without imperfections.
Each floor took the Blair Duron crew about one week to complete from start to finish. The combination of the Drytek products - a total of 420 34-pound bags of the 3000 and 1,000 55-pound bags of the 7200 - allowed the company to meet the customer's needs without exceeding the structural weight limits of the existing floors. "The products were exactly what we needed. It was the only product that we could put sheet goods over and keep it at that weight," McDougall says.