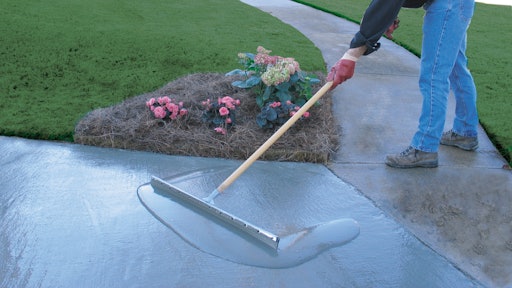 The QUIKRETE Companies
As all contractors know, there are three indisputable facts about concrete: it's gray, it gets hard and unfortunately, it will deteriorate over time. There are a variety of culprits including freeze-thaw cycles, vehicle traffic, or everyday wear-and-tear that cause driveway, patio, sidewalks, and other concrete surfaces to crack, chip, spall, and flake. When the inevitable happens, contractors can address the problem quickly, effectively, and affordably.
Before you bring in a big crew and ready-mix trucks to remove and replace the concrete, consider resurfacing it instead.
Why Resurface?
"I've also found that having a few bags (of resurfacer) on the truck can come in handy with unexpected jobsite concrete issues that need to be handled quickly. It's definitely helped me keep clients happy on more than one occasion."
—Thomas Werline, veteran contractor, finisher, mason
Resurfacing is a proven method of restoring the durability and appearance of dilapidated concrete by applying a thin layer of pre-blended, polymer-modified flowable mortar on top of an existing surface. Resurfacing concrete is a significantly less expensive than replacing it. It costs between $3.50 and $5.50 per square foot to break up, haul off and pour a new slab of concrete compared to only about 25 cents per square foot to resurface concrete. In addition, the resurfacing process is less labor-intensive and less disruptive than replacing concrete. Ultimately, resurfacing can produce a high volume of profitable concrete restoration jobs for contractors.
Contractor experience has shown that high-quality, well-formulated and properly applied resurfacers can extend the life of concrete for years. While a variety of factors contribute to the successful restoration of concrete including proper surface preparation and application (both addressed later), resurfacing gives contractors several clear and distinct advantages.
Resurfacers eliminate the time, labor, and expense to remove existing concrete and pour a new slab.
No special skills or training is required to apply a resurfacer.
Concrete restored with resurfacer can be open to vehicle traffic in one to two days.
Resurfacers can be applied in a variety of thicknesses making it viable for many types of restoration repairs.
Beyond repair and restoration, resurfacers protect concrete to help minimize maintenance moving forward.
Concrete restored with a resurfacer can be colored, stamped, and/or stained for added aesthetic value.
Veteran contractor, finisher, and mason, Thomas Werline of Orlando, Fla. has resurfaced concrete on residential and commercial jobs of all sizes across the U.S. from New Jersey to California during the past 45 years. "In general, the ability to make simple cosmetic improvements or perform full-scale restorations, depending on how thick the material is applied, makes resurfacing concrete invaluable. The use of a concrete resurfacer like the one from QUIKRETE has proven very beneficial to contractors like me, especially during the construction downturn ten years ago," according to Werline.

Which Resurfacer Should You Use?
The long-term viability of the restored concrete is only as good as the resurfacer used for the job. Fortunately, new state-of-the-art polymer resin technology found in next-generation concrete resurfacers has established improved standards for bond strength, workability, and working time. For example, tensile pull tests found that concrete will actually break before its bond to QUIKRETE Re-Cap Concrete Resurfacer, which features a proprietary combination of additives that stabilize the polymer film to from a stable bond with the concrete surface. As a result, premium resurfacers allow contractors to finish more concrete restoration jobs faster and without worry of time-consuming and costly callbacks. Some other attributes contractors should consider when selecting a resurfacer include:
The resurfacer should have a compressive strength at least equal to the concrete surface being restored (at minimum 4,000 psi at 28 days).
The resurfacer should be enhanced with polymers additives to increase tensile bond strength to at least 400 psi in seven days.
The resurfacer should have high-early strength exceeding 1,200 psi in one day so the concrete can be open to traffic quickly.
The resurfacer should have minimal plastic and drying shrinkage to prevent cracking.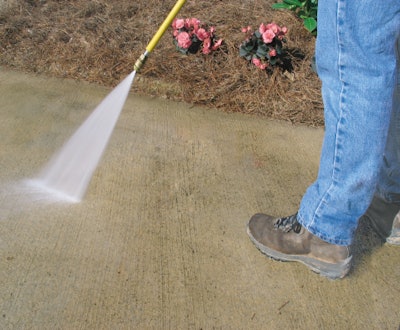 How to Resurface Concrete
Surface Preparation
Start by confirming that the concrete surface is structurally sound, void of cracks larger than 1/4-in. deep or wide, and that any necessary surface repairs are made. Surface preparation is the most critical step in successfully resurfacing concrete. It requires thoroughly cleaning the surface to include removing oil, grease, and other materials with acid, detergent, or bleach solution. That is followed by thoroughly cleaning the surface with a 3,500 psi pressure washer to remove any deteriorated concrete and to open up the pours in the concrete, which help create a strong bond with the resurfacer. It is essential that control joints and expansion joints be maintained while preparing the surface with weather-stripping tape.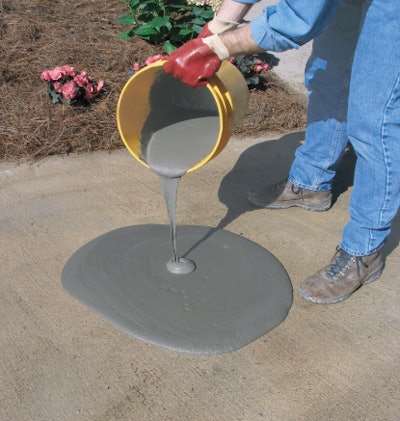 Mixing, Application & Curing
Before placing the resurfacer, saturate the concrete with water and remove any standing water.
Before placing the resurfacer, saturate the concrete with water and remove any standing water. The workability and long-term durability of a resurfacer depends on the water content, so follow the ratios recommended by the manufacture. A standard commercial-grade drill and paddle mixer is sufficient to mix a 40-lb. bag of resurfacer with water in a 5-gallon bucket for three to four minutes. In this quantity, a premium resurfacer has about 20 minutes of working time, which is plenty to cover 20 sq.ft at 1/4-in. thick or 90 sq.ft. as a skim coat.
For larger jobs, six to eight bags of resurfacer can be mixed in a mechanical mortar mixer, but a three to five-person crew will have to get it poured and finished in less than 30 minutes.
Before placing the resurfacer, saturate the concrete with water and remove any standing water. Pour the resurfacer onto the concrete in one-foot wide strips and scrub the material around the surface with a long-handled squeegee. Use sufficient pressure to work the material into the surface pores and build to a nominal 1/8-in. thickness. For hard-to-reach corners and edges apply the resurfacer with a masonry brush. Avoid overworking the resurfacer.
Five minutes after applying the resurfacer, pull a concrete finIshing broom across the restored concrete perpendicular to traffic to provide a textured, non-skid surface. Most of the time, the first coat of resurfacer is sufficient to cover the existing concrete surface. However, if a second coat is required then allow the first coat to remain undisturbed until it can hold light foot traffic (for exact waiting time, refer to datasheet of the product) and then apply the second coat.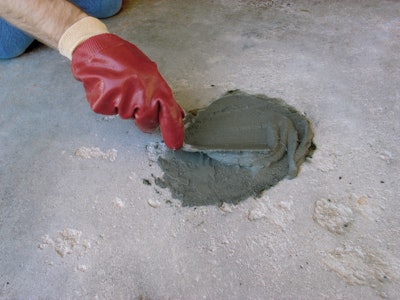 Once the restored concrete has hardened, spray with a gentle mist for 24 to 48 hours after applying the resurfacer to prevent plastic shrinkage cracks and premature stressing during the curing process. The appearance and durability of the restored concrete surface is sensitive to external environmental conditions especially to the rain thus protect the resurfaced area from rain for at least 8 hours after application.
One of Werline's most recent projects was to renew an uneven, heavily soiled, and unattractive concrete deck utilized for a large waste container holding area at a Central Florida school: "When it was suggested to paint or stain the deck, I immediately recommended resurfacing the concrete. After aggressively cleaning off the heavily soiled areas to prepare the deck's surface, the resurfacer went down fast and smooth. The final touch was finishing with a textured figure eight-swirl pattern to provide an attractive non-skid surface."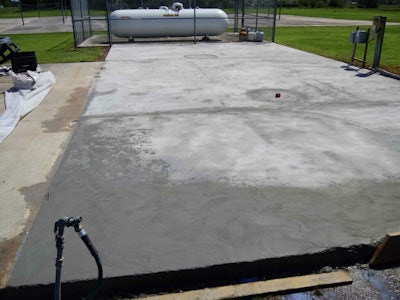 Resurfacing Concrete Tips
It's not possible to control external elements like rain, temperature, and humidity during a concrete restoration project using a resurfacer. However, steps can be taken to help achieve optimal workability, durability, color consistency, bond strength, and other performance characteristics.

Mix, apply, and finish resurfacer when the ambient and surface temperature is between 50

º F

and 90º F.
Do not apply resurfacer in direct sunlight, or early in morning, or late in the afternoon.

In hot temperatures saturate the concrete with cold water and cold temperatures saturate the concrete with hot water.
Resurfacer applied in the cold conditions will cure darker due to longer retention of moisture.
Homeowners in suburban residential communities don't want to be held hostage to ready mix trucks clogging up traffic while 300 concrete driveways are being removed and re-poured. Property managers at the local town center don't want to explain to tenants why the parking lot can't be used for a month because the new concrete has to fully cure. Today, contractors are getting newly restored concrete open to foot traffic in eight hours and vehicle traffic in 24 hours at a fraction of the cost of replacing the surface. Yes, concrete will deteriorate, but contractors can bring it back to life by resurfacing.
Werline adds, "I've also found that having a few bags (of resurfacer) on the truck can come in handy with unexpected jobsite concrete issues that need to be handled quickly. It's definitely helped me keep clients happy on more than one occasion."
About the author
Ojas Arum Chaudhari was a Research Scientist in the Product Development group at The QUIKRETE Companies. He currently works at the Research Institutes of Sweden, located in Stockholm, Sweden.
Originally published November 2018.
Companies in this article