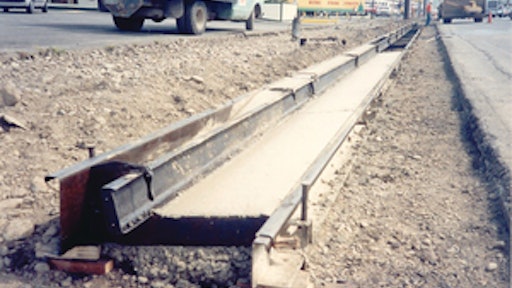 Edgemaster Series 800
The Edgemaster Series 800 creates a variety of profiles and patterns.
Lightweight design
Gas or electric
Slip-steering for tight turn radius
Few moving parts to reduce maintenance and wear
Powder-coat paint finish
Kwik Kerb
Lil' Bubba Auger Curb Machine
The 176-lb. Lil' Bubba Auger Curb Machine from The Concrete Edge Company is a compact curb extruder for installing ribbon curb on asphalt or concrete up to 6" x 8" in size.
Can handle aggregate up to 3/8 in.
Auger drive provides smooth operation with zero waste
Features include a 4-in. stainless steel auger and 4-hp Honda engine
The Concrete Edge Company
Curb Fox 2000
The Curb Fox 2000 provides an economical way to pave curb up to 14 in. high and curb and gutter sections up to 24 in. wide.
Paves small curbs up to 35 fpm and curb and gutter at speeds of 5 to 10 fpm
Slipforms over any type of steel reinforcement that might be required
Can be equipped with a 24-hp gas or diesel engine for curb and gutter work, or an 18-hp gas engine for just curb
Easy to operate controls minimize training time
Curb Fox Equipment, LLC
MC900 Curbilder
The Miller Spreader Co. MC950 Curbilder is a hydraulically-operated high-production upgrade of the MC550/650 machines.The standard hopper vibrator eliminates the need for a hopper tender or "juker" when curbing with concrete. The optional hydraulic raise/lower and powered drive wheel reduce the time required to move and position the unit on the jobsite."
Miller Spreader Company
Curb Roller
Meets the needs of small to medium contractors by offering relief from hand forming without the high price of machines
Pours up to 30-in. curb and gutter, even next to existing sidewalls
The easy-to-use machine offers accurate pouring and hydraulic drive with variable speeds
Curb Roller Manufacturing
Hydraulic Mold Lift
Power Curbers Hydraulic Mold Lift
Power Curbers offers an optional hydraulic mold lift for use with the 5700-C slipform machine.
Designed to make slipformed highway barrier or parapet construction easier
Allows operator to easily and quickly lift a barrier mold off rebar at the end of a day's pour for easier cleaning of machine
Gives machine an extra 2 ft. of lift for added maneuverability
Power Curbers Inc.
Curb Cadet
This self-propelled, 2,650-lb. compact curb machine will slipform concrete curb, or extrude asphalt or concrete curb.
Can accommodate concrete mold configurations that will fit within a 12-in.-wide by 14-in.-high section
Molds quickly interchangeable
Curb can be poured on either side of the machine
Can place concrete over dowels or continuous reinforcing bar
Can pour a 2-ft. radius
13-cu.-ft. concrete hopper capacity
GOMACO Corporation
Curb and Gutter Forms
Metal Forms' Curb and Gutter Forms are built to local specification for straight and radius setups. The reusable forms are easy to set and strip.
Metal Forms Corporation