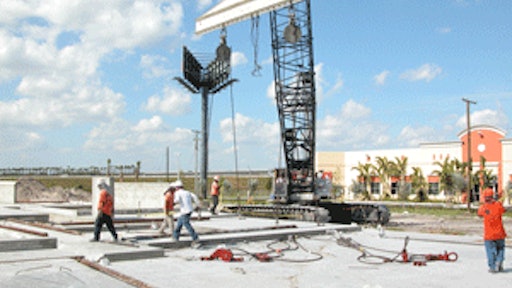 Tilt-Up construction continues to lead in growth as a building solution due its advantages of efficiency, economy and effectiveness. In fact, Tilt-Up construction has grown at an annual volume of more than a quarter billion square feet of wall, outperforming the general building industry during the past decade. Market growth, however, means that people are entering this field at a rapid rate, requiring increased attention to safety — another long recognized benefit of Tilt-Up.
Despite the obvious safety considerations of erecting massive concrete wall panels with large mobile cranes, Tilt-Up construction offers great safety for crews. Since the floor slab is cast first as it is the primary casting surface for the wall panels, a sold dry work area is created for the building trades. In addition, constructing the framework on the ground eliminates the need for scaffolding, further increasing worker safety. Overall, site-cast Tilt-Up construction is recognized as a reliable and safe building method, if utilized in conjunction with good planning and a solid safety program.
Before a Project Begins

For Tilt-Up crews to take advantage of the benefits of speed and economy inherent in the site-cast Tilt-Up process, safety programs and guidelines must be enforced. Since a comprehensive safety program goes well beyond what to do and not do in the field, it must begin in the office before any workers even go to the field. For example, your safety program should include a review of all subcontractors, contracts and purchase orders — allowing you to address safety concerns and attribute responsibilities. Further, ongoing training is essential, which necessitates actually bringing the training to the crews in the field.
The key for a safety program in a Tilt-Up firm is a site-specific safety plan. A site-specific safety plan for each project should include the sequence of Tilt-Up activity. What panels are you setting first? Which will be difficult picks? The safety plan should cover crane selection and placement. The crane should be the right size for the job, inspected annually and handled by a certified operator. Be sure to address the critical lift plan with regard to the FAA (Federal Aviation Administration) and obtain the crane operator's certification and medical card before he or she arrives on the job. Also be sure crane maintenance records are updated and on-hand. The safety plan should also incorporate all known hazards and utilities surrounding as well as on or through the site. Items like power lines, fiber-optic cables, water mains and sewer lines all can impact the safety on the site throughout the process.
The Tilt-Up safety plan also should include a description of the special procedures required for hazardous non-routine tasks, such as design equipment, brace removal and inspections. Who determines when to remove the brace?
Another component of a site-specific Tilt-Up safety plan is a description of controlled access zones. For example, if a crew will be lifting a 30-foot-tall panel, how far away should everyone stand, not including the lifting crew? Most industry standards apply a safe distance equal to the height of the wall plus a buffer distance. What will your company determine as your effective standard? Many Tilt-Up experts suggest a controlled access zone of one and half times the panel height.
Next, the Tilt-Up safety plan should include a description of panel erection activities and procedures. These actions must follow design specifications without any modification. Remember, don't:
substitute or interchange,
use expansion anchors,
use worn equipment,
ride on panels, or
alter rigging or strongbacks.
In addition to panel erection activities and procedures, a Tilt-Up safety plan must address fall protection. Although Tilt-Up has an advantage with regard to fall protection since the method eliminates much of the work performed off of scaffolding and at higher heights as common with under methods, falling is the second most common cause of work-related deaths on all construction sites. The numerous mandates for fall protection may be confusing to the Tilt-Up worker. For example, fall protection is mandated at 6 feet. For scaffold builders, fall protection is mandated at 10 feet. Steel workers must wear fall protection when working at or above 15 feet, but not tied on until upwards of 29 feet. Instead of workers trying to figure out each day if they are connectors or scaffold workers, make a rule that applies to all workers — such as, "Anyone working at 6 feet or higher must wear fall protection." For the Tilt-Up industry, 100 percent tie-off is suggested.
Not only should workers be protected from falls but also from falling objects. When standing a panel, debris such as mud and rocks can fall off the panel. Hard hats and controlled access zones are two of the best ways of protecting employees from such falling objects.
Another important aspect of a Tilt-Up safety plan that shouldn't be overlooked is certification for training workers who perform panel erection. Do you have specific people who only work on Tilt-Up projects, do you use a different crew each time, or do you subcontract your Tilt-Up work? How do you identify that all of these workers are trained? Many companies use different-colored vests or hard-hat stickers to indicate an employee's training level.
For your safety plan, include emergency rescue and response procedures. These procedures should identify site-specific action plans. Who on the site knows CPR? Are employees required to give first aid? Do you have trenches? Does the volunteer fire department come to this site, or is it too far away? Be sure to answer these questions as part of your site-specific plan.
The Important Pre-Lift Meeting
 
The pre-lift meeting serves a significant role in addressing issues specific to Tilt-Up. As such, it is vital to have fresh eyes and ears at this meeting and to document the discussion. In addition to including details in the agenda and minutes, every member present should be required to sign off on these documents. Go over the Tilt-Up Safety Card — available from the Tilt-Up Concrete Association — sign and date it. Remember, the pre-lift meeting is only good for that lift. Even if you have thousands of lifts under your belt, don't get complacent when it comes to safety. Be as safe on each job as you were on your first job. If you change any member of the project — for instance, a new signalman — you must have a new meeting. If you change the crew, hold a new meeting. Who should attend? The crew, signalman, crane operator, general contractor and anyone else who will be on that site that day. If possible, eliminate the presence of any other trades on the site on lift day so no one accidentally wanders into the wrong spot.
On erection day, certain guidelines must be followed to ensure a safe lift. First, the Tilt-Up contractor should be fully in charge of the site. If you are a Tilt-Up contractor tilting panels on a site, you should own the site that day. Outline this responsibility in your site-specific plan. Next, review the TCA worker safety checklist. The lift crew should wear vests. In addition, the crane's capacity reduction in wind must be considered. Going vertical, wind, weather and other uncontrollable issues should be taken into account as well.
Ongoing Training

Once the project is completed, the safety process should continue. Accidents tend to happen when workers become complacent or comfortable with a process and therefore skip steps. As such, even the most experienced Tilt-Up crews continue their education and refine their techniques through seminars and networking opportunities. The TCA offers several resources in this category, including seminars and published resource materials. For more information, visit www.tilt-up.org or call 319-895-6911.
About the Tilt-Up Concrete Association (TCA: TCA was founded in 1986 to improve the quality and acceptance of site cast Tilt-Up construction, a construction method in which concrete wall panels are cast on-site and tilted into place. Tilt-Up construction is one of the fastest growing industries in the United States, combining the advantages of reasonable cost with low maintenance, durability, speed of construction and minimal capital investment. For more information about the TCA, visit www.tilt-up.org.