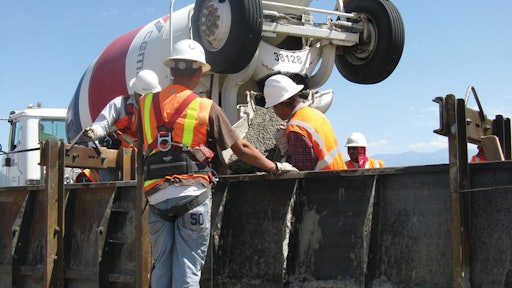 Meridian Contracting specializes in performing bridge work, concrete work and utilities throughout New Mexico, Arizona and Oklahoma. Recently, the company planned to buy a number of metal forms for parapet walls to speed its part of improving a 10-mile stretch of U.S. 54 north of Tularosa, NM. The custom steel forms would be used to construct about 1,500 ft. of double-slope parapet wall along the edges of 14 new box culverts that the contractor had built for the expanded and relocated road.
Meridian wanted its investment to be useful on future projects. "I worked with Metal Forms to design [the forms] so we could use them for two types of wall barrier jobs," says Michael Martinez, project estimator. Metal Forms Corp. designed the steel forms so they can be set up for double-sloped walls or easily adjusted for single-slope designs on future bridge projects. Meridian now owns 200 ft. of the 10-ft.-long forms.
Compared to using wood, the metal forms save a considerable amount of time. They are easier to set up, and can be removed more quickly and re-set at the next location.
"We can gang-lift both sides at the same time. If we used wood forms, we would have to strip each side separately, and would get minimal re-use from them," Martinez says. He also points out that the steel forms leave a higher quality finish than wood.
Once a box culvert on the Highway 54 project is completed, the forms are set in place with internal rebar along their length and dowel sockets at the ends where transition sections will be added. Because the sites are located intermittently along the 10-mile jobsite, pouring of the 4-in. slump mix is typically done in small batches at one or two locations at a time.
Martinez says they typically pour about 100 ft. of the barriers at a time on this job. "When we are finished, we don't break the forms down," he states. "We just loosen them, lift them off with a forklift and take them down the road to re-set them at the next location."