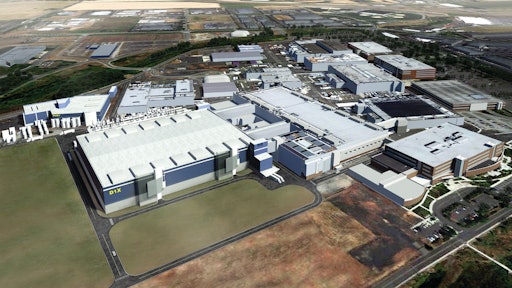 Scheduled for completion in 2013, Intel Corporation's (Intel) massive 1.8-million-square-foot research facility being built in Hillsboro is one of the largest construction projects in Oregon's history. The project includes construction of an enormous fabrication plant and two support buildings that will develop Intel's future generations of high-tech microprocessors.
Charged with construction of the $3 billion facility, dubbed D1X, general contractor Hoffman Construction Co. of Portland, OR, coordinates the efforts of a small city of construction workers and subcontractors - as many as 5,000 projected at the peak of construction, working six days a week, 12 hours a day. Since the project began in February 2011, up to 1 million cubic yards of dirt have been excavated, 45,000 tons of steel and rebar installed, and 300,000 cubic yards of concrete placed at the Ronler Acres Campus.
Quick Placement Required
Ralph's Concrete Pumping, Inc. (Ralph's) of Seattle, WA, was selected as the exclusive concrete placing company for the high-profile project. With 30 years in business, the concrete pumping company put its industry experience in high gear when complex concrete work for D1X started in April 2011.
Under the direction of owner Skip Gribble and his three sons, Ralph's first placed a 9-foot-thick mat-slab the size of 31 football fields using varied sizes of truck-mounted concrete boom pumps from its fleet. The unusually thick slab is designed to protect against possible seismic vibration when developing Intel's highly sensitive products.
After completing the slab, an elaborate concrete placing system was installed. "Twelve Putzmeister placing boom towers were erected to 50 foot (15.24m) heights using the freestanding mounting configuration. Two additional towers, mounted with ballasted cross-frame base, were mobilized in and out of the job site depending on the need for additional coverage," says Joshua Gribble, the operations manager.
The lattice towers were positioned to attain the greatest coverage area when placing concrete.
"We specifically purchased four Putzmeister 40Z-meter truck-mounted concrete boom pumps to meet the project's bid specs for a long horizontal boom reach of 115 feet 2 inches," says Skip. "The four placing booms - two equipped with the series I detach option and two with the series II detach option - were removed from the trucks for use on the towers. Because of the booms' long reaches and towers' precise placements, crews didn't need to drag any extra hose, which kept up the fast pace."
Another process that accelerated the project's speed was the ease in moving the placing system among the numerous towers. It involved a simple four-pin disconnect from the tower, then picking and moving the boom and pedestal together to the next tower, followed by an quick reconnection with four bolts.
"We could move the placing boom from one tower to the next in less than ten minutes," says Jacob Gribble, the sales manager. "Plus, the time- and labor-saving process was done in only one crane pick because no counterweight is needed with Putzmeister placing booms, thereby avoiding a potential second pick."
While the placing booms were mounted to the tower, their truck-mounted bases remained on the ground, pumping concrete. Two of the truck-mounted boom pumps were equipped with .16H pump cells and two with .20H pump cells, capable of pumping up to 210 and 260 cubic yards an hour, respectively. Each pump attained the required 100 cubic yards an hour outputs.
"Of course, when there were big pushes around 1,300 ft., we relied on our Putzmeister high-pressure 14000 trailer pump that was also purchased for the job," adds Skip. The BSA 14000 HP-D 8-in. trailer pump utilizes a 630-horsepower engine, free-flow hydraulics and  8-inch material cylinders."
A Timely Delivery
When placing concrete for the elevated slabs and walls, 12 employees from Ralph's were on-site on almost a daily basis: eight operating equipment with two at each of the four placing system setups, and four setting up and tearing down pipe. In addition, while the placing booms were busy working, up to five truck-mounted boom pumps and their operators were often found on-site pumping concrete for ancillary work such as the roof.
"It was a ridiculously fast-paced project," notes Skip. "We placed 300,000 cubic yards of concrete in about six months, sometimes pumping 12,000 cubic yards in a day."
"Placing the high volume of concrete needed for the project went smoothly and without service-related issues," adds Isaac. "As a result, concrete placement was finished on schedule in the fall of 2011, with major credit going to the concrete placing company's expertise, its experienced operators and crew and the equipment's reliability."
Skip concludes, "The overall construction requirements for D1X were just huge, and came at a time when it was definitely needed for our area's economy."
Reports indicate the Oregon-based D1X project is single-handedly boosting this region's economy by reviving its weakened construction industry. With Intel investing up to $8 billion in new building projects in Oregon and Arizona, the micro-chip giant is supporting up to 8,000 construction jobs and creating up to 1,000 new permanent high-tech jobs between the two locations.