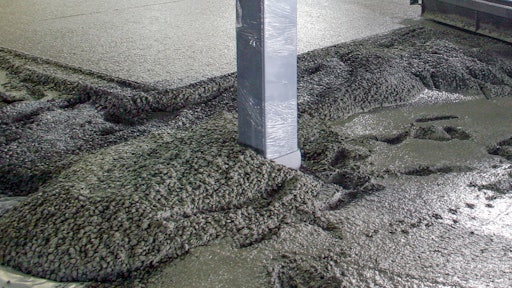 If you are the owner of a large warehouse or manufacturing facility, one of your concerns is how well your floors will maintain over time. Robert Guarnaccio, president of Stout Development Services, Libertyville, Ill., a company that develops and sells industrial space, says most owners and developers of commercial space are concerned about performance over the long haul and understand the importance of curling issues more than anyone — more than most contractors. They want floors with fewer joints because curling occurs at joints and that's where maintenance costs are the greatest.
If you are a concrete contractor who installs floors, curling probably isn't an important issue for you. Your problem is to install flat, level floors that meet the specified requirements at the time of construction. Based on measured results you get paid and move on to your next project. But if you want continued work with owners and developers you will need to produce work that performs well over time, work that doesn't curl and has fewer joints.
We've known about curling for a long time but little has occurred to address the issue — the American Concrete Institute (ACI) has few guidelines and no protocols for measuring curl. But that is changing as contractors and manufacturers develop systems for installing no-curl floors with greater joint spacing, marketing this feature to owners. ACI does have guidelines for evaluating flatness (FF) and levelness (FL) shortly after sawed contraction joints are installed and away from initial curling zones.
What is curling?
Many think curling occurs only at the edges of a panel. But Allen Face, owner of the Allen Face Companies of Wilmington, N.C., theorizes that slab panels form a spherical shape when they curl, with the centroid of the panel at the bottom of the sphere and the edges up in the air at the top. "Curling results from drying shrinkage in the surface region of a floor panel, so this is where preventative efforts should be focused. There is very little shrinkage at the bottom portion of a slab because water is retained there for a much longer period of time," he says.
As differential shrinkage develops, panel edges lift off the ground, requiring the center portion of the panel to carry the panel weight, compressing the base and soil under it. So the centroid of a panel loses elevation as the edges of the panel gain elevation. When floor panels curl, "panel rocking" occurs as forklift traffic passes over them, eventually causing cracks to develop parallel to panel perimeters (where the panel leaves the ground) as the flexural strength of the slab is exceeded.
How to measure Curl
When slabs are evaluated for FF and FL to assure that contractors placing and finishing skills produce the specified floor, ASTM 1155 requires measurements to start two feet away from panel perimeters, measured in both the X and Y axis. This measurement avoids areas where curling activity is the greatest. There is currently no ASTM or ACI approved method for measuring curl, so Face has developed his own method. Using the same instrument for measuring FF and FL— one capable of recording 0.005 of an inch elevation changes, he takes measurements along diagonal lines across the corners of panels defined by sawed contraction joints. "As with FF and FL measurements, profiles are taken just after finishing and sawing operations are complete to profile the original surface of the slab and this information is compared with later measurements," he adds.
Reducing Curl
Owners push for no-curl floors but construction companies and product manufacturers are bring change by introducing products that reduce both shrinkage and curling in floor slabs. Today any designer can specify high dosage levels of steel or synthetic macro fibers or shrinkage reducing admixtures (SRAs) to improve the long term performance of floors, or they can specify proprietary products requiring licensed installers. DuctilCrete, based in Gilberts, Ill., is an example of a proprietary system that works through an alliance of contractors in the U.S. to install floors guaranteed not to curl. Since the inception of the concept, the company has successfully placed over 30 million square feet of floors, toppings and paving. They employ a systems approach, bringing many elements together to produce the desired results. Their system includes:
Engineering
Bruce Randall, who heads the engineering division for DuctilCrete, says they provide the engineering for every project contracted. It starts during the bid process — alliance contractors submit contract documents to Randall's group, who re-engineer the floors to DuctilCrete requirements, sending stamped drawings and specifications back to the contractor. Randall says they often work as delegated engineers for the floor slab, cooperating with the prime professional who has overall responsibility for a project.
Subbase preparation
Proper subbase, confirmed by required proof rolling is very important. Floor panels with no curling rest uniformly on the subgrade so load is transferred directly to the soil.
Vapor retarders
Eliminating moisture movement from the subbase into floor slabs and providing a "slip-sheet" to increase panel movement.
Two-lift placement
Based on the theory that shrinkage occurs only in the top portion of a slab, most of DuctilCrete's work is placed in two lifts. The bottom layer consists of their conventional concrete mix. The top portion of the slab uses the same mix with macro fibers, a moisture containment admixture, and SRAs included. The two lifts are placed wet-on-wet, quickly and efficiently. With almost no shrinkage in the top lift, curling is virtually non-existent.
Fewer control joints.
Sawed control joints are typically cut only on column lines, reducing the number of joints by approximately 70 percent compared to typical installations. Fewer joints mean fewer maintenance problems in the future.
Providing a warranty
Randall says their marketing leverage with owners is their warranty. "We provide specifications and details for all installations, based on owner needs and local conditions. Each project is supplied with stamped drawings and our multi-year services warranty," he says. "This, along with professional liability insurance provides a superior comfort level for owners."
Contractor experience
Scurto Cement, Gilberts, Ill., worked out the DuctilCrete process, so they have installed the most work so far. They are involved in continuous research and field studies to improve the proces. The company's president, David Scurto, says they have installed between 15 to 20 million square feet of floors and toppings to date. This includes about 250,000 square feet of two inch thick interior floor toppings and a like amount of exterior pavement over both asphalt and concrete. "To find work we check base bids. If a slab meets ACI requirements, we can be competitive. So we provide an alternate bid for DuctilCrete including a 3 to 5 year warranty. Our price will be less and we offer 70 percent fewer joints," he says, and that often gets the job.
Scurto knows there is competition for performance based flooring but says that so far other systems are significantly higher priced.
Tom Gehrlich, Product Manager for Lithko Contracting, based in Cincinnati, Ohio, says it was one of their customers who asked them to look into DuctilCrete. They were impressed and became alliance members. Lithko is a total package concrete contractor; one of its key market segments is large warehouse and retail construction. Gehrlich says their customers tend to be sophisticated so they understand floor problems. Before DuctilCrete they occasionally experienced call backs from customers, sometimes years after an installation, concerned about curling issues and wondering what to do.
Gehrlich thinks the floor industry is in a state of change now — cracking and the cantilever effect at joints are going away, customers aren't putting up with marginal installations or products anymore. They have installed three million square feet of Ductilcrete floors to date, with a backlog of over one million square feet. They are beginning to market the product to other longtime customers.
Michel Sullivan Jr is the CEO of Peak Construction Co. based in Des Plaines, Ill., a general contractor specializing in design-build work. He says they first became aware of DuctilCrete in written publications describing floors with better performance characteristics and that fit with what their customers wanted. So they started specifying the process, even though they don't install it. To date they have included 850,000 square feet of DuctilCrete in their projects and think they will specify 1.5 million square feet in the coming year.
Like Peak Construction, the Kajima Building & Design Group (KBD), with headquarters in Atlanta, GA, is a design-build construction company. John Evans, the regional manager for the Chicago office for KBD , says they are a subsidiary of Kajma USA, whose parent company is located in Japan. "In the past, clients occasionally complained about curling floors and related problems. We could only advise them to grind-down curled areas and perform maintenance at joints," he says. "Five years ago we were introduced by Scurto Cement to Ductilcrete and saw one of their completed projects—we were impressed." Since then we've specified over 2.3 million square feet of DuctilCrete in the last 2 years, and are currently working with a developer who is impressed to the point of specifying Ductilcrete slabs on over 3.5 million square foot of new projects.
Changing times
Addressing the issues presented by floor slabs that curl over time calls for revolutionary change. Owners increasingly demand affordable floors that meet the specified requirements at the time of installation, and provide low maintenance great performance for many years. Contractors are learning how to give them what they want.