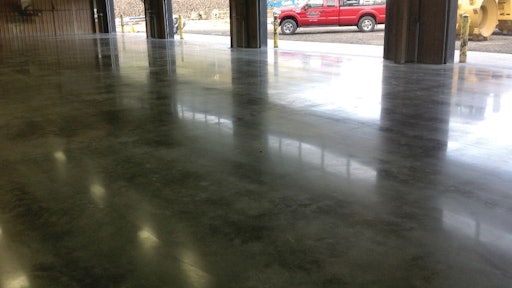 Wm. Winkler Company of Newman Lake, Wash. is celebrating its 95th year. Over the decades, Wm. Winkler Company, a concrete specialty contractor has established client and vendor relationships with Western States Equipment Company and Multiquip, the manufacturer of MQ Whiteman products. Western States Equipment Company is a heavy equipment dealer with 13 locations in the Intermountain West. The concrete slabs in the facility experience constant traffic and loading of all types of heavy equipment. When they recently indicated their concerns for the durability and aesthetics of these slabs to Brian Winkler, he teamed with Multiquip for a solution. "We are always trying to expand our market with value-added products," Winkler noted, "And this relationship offered an obvious solution."
Winkler and Multiquip immediately began testing the new MQ Whiteman SlabArmor product recently developed by Multiquip. Beta testing was first performed in the Winkler yard to confirm construction and application procedures while also certifying the Winkler field crew in best practices. 
According to Ben Wiese, Product Manager at Multiquip, the SlabArmor product is a two-step process. The process was developed for application on slabs where maximum hardness and durability is required. An added benefit is the surface resistance to spills and staining when compared to conventional industrial slabs.
"The wear characteristics are comparable to dry shake hardeners and trap-rock while providing a more economical construction cost," Wiese notes.
The chemical properties of SlabArmor allow the contractor to integrally apply the material into the concrete during placement with an additional topical application during final finishing. Both applications require minimal equipment and labor, essentially a sprayer, as opposed to other options such as trap-rock or dry shake pigments.
"This is significant in reducing the initial construction costs as we do not need a large volume of labor, equipment, shipping and handling that would be required for other available products," says Winkler. "It is very similar to the ease of curing compounds or chemical hardeners but offers many additional advantages."
 After SlabArmor, step two consists of an application of MQ Whiteman FirstPolish during final finishing. Later, the slab is cleaned with a Viper 32" Autoscrubber. Low Enterprises Inc., of Kalispell, Mont. used a Concrete Polishing Systems 3200 propane burnisher to burnish additional material, forming an insoluble bond. The resulting surface is densified while also offering enhanced gloss and slip resistance. The light reflectivity of the floor system provides esthetic and operational advantages for the client.
Coincidentally, Winkler was already scheduling a removal and replacement project for an existing service slab at a Western States facility in Lewiston, Idaho. Winkler opted to expedite testing of SlabArmor at his facility and value engineer the replacement project for the Western States facility.
"This gave us an opportunity to really test the product performance while also offering the client potential savings," Winkler stated.
 After initial testing and certification, the Winkler crew began removal and replacement of approximately 7,000 square feet of service bay slabs in the Lewiston facility. Partnered with Multiquip, Winkler developed appropriate mix designs and construction protocols based upon their experience at the beta test site.
After initial construction of the SlabArmor, step two of the process was performed by Lowes of Kalispell, Mont. This included the burnishing of the slab approximately five days later.  While comparable to a polished floor system, no stripping of curing compounds, removal of any wet cure products and coverings was required. The SlabArmor system complies with all ASTM C309 moisture retention requirements for proper curing. The ability to maintain high relative humidity for longer periods of time can produce higher strengths and additional abrasion resistance.
Constructability reviews from the craftsmen who worked with the product in both applications indicated the workability of the surface during finishing operations was improved. They noticed only minor extension of the set-times comparable to conventional concrete mixes. 
"Other than needing to spray apply the product during pouring and finishing, we did not see a real difference in the construction of the slab. It was significantly less work than applying a shake on hardener or trap rock," says Bill Hughes, Winkler Superintendent.
Scott Kneale, Service Manager at the Lewiston facility, described the floor as "awesome." His two favorite features were stain resistance and light reflectivity. "On our old floors we were constantly having to clean, scrub and reseal the slab. The new slab is so dense that oil spills are not an issue. We just wipe them up without any staining."
The facility constantly runs floor scrubbers throughout the day for dirt, spills and the many items one would expect from a heavy equipment shop. "Our scrubber makes one pass and the slab is completely clean without constant scrubbing and cleaning," Kneale says. He noted they are down-grading the abrasion of his scrubbers due to the ease of cleaning.
Winkler is discussing additional projects for his client as well as others. "What's great," Winkler adds, "is that all of the products are environmentally neutral and meet the standards of the many jurisdictions in which we work." This is an important cost and regulatory component for Winkler who works in several states for a variety of clients.
So far the product is performing but the more important lesson is that mutually beneficial relationships work. "It has worked for the past 95 years," Winkler says with a smile. "So we intend to keep it going".