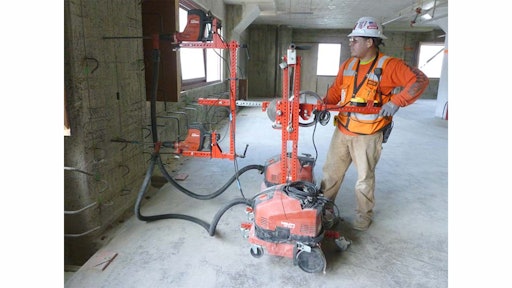 For several years now Dr. David Rempel and I have investigated concrete drilling at the University of California Ergonomics Program. We are looking for ways to protect construction workers from fatigue and ergonomic hazards during such work. When a large construction project requires repetitive drilling of concrete holes, it usually means days, weeks and even months of heavy exertion in awkward postures and excessive vibration, not to mention breathing in clouds of hazardous silica dust.
With support from CPWR – the Center for Construction Research and Training, we began with an exploration of overhead drilling. Workers involved in installing ductwork, pipes or conduit in concrete ceilings complained of musculoskeletal strains and injuries. We learned, as my partner Dr. Rempel describes it, "drilling overhead into concrete is like holding a noisy, vibrating 50 pound box above your shoulders while dust drops into your face and eyes – while you are standing on a ladder." Small wonder so many construction workers spend their nights and twilight years in debilitating pain.
Together Dr. Rempel and I designed an overhead drill press, using a tripod base and a telescoping column topped with a universal saddle that could accommodate most varieties of small hammer drills. It reduced the forces impacting the worker's body by 90 percent and allowed workers to avoid spending long periods at the top of ladders in awkward positions. The new device went through several revisions based on field testing, and soon we'd succeeded beyond expectations. The jig didn't just keep the worker safe from pain and injury – it made him or her more productive as well. Firms who participated in the testing clamored to purchase the device, and Telpro (an equipment manufacturer specializing in drywall lifts) created a version of the device for commercial production and sale.
From engineer to entrepreneur
Based on this success we turned to an even weightier challenge: multi-directional drilling using much larger drills. We've seen a big spike in demand for this in California by owners seeking seismic upgrades to protect buildings and bridges against catastrophic earthquake damage. Such work requires repetitive drilling of deep large bore holes to accommodate rebar dowels used to tie newly poured concrete to an existing structure. In fact, we discovered this type of drilling is widely used on large construction projects throughout the country.
With experience gained in our overhead drill design, we made speedy progress on a universal drill jig. The new device was built to accommodate two drills in the saddle, allowing users to drill two holes at a time if desired – two perfectly spaced holes every time! We also outfitted it with an optional dust collection system to protect workers against airborne crystalline silica (a priority of many contractors who are eyeing new regulations coming out of OSHA). The universal drill jig cut users' hand vibration by two-thirds when compared to old-fashioned, manual drilling; reduced the required hand force by 90 percent; and when used with the dust controls slashed airborne silica exposures by an amazing 96 percent! And Thomas Burkland of Warm Springs Constructors, involved in the testing, pronounced the jig "amazing for productivity – ballpark three to four times faster hole drilling." As with the overhead drill press, firms participating in the testing asked to purchase the device, often in multiple units.
Yet we found difficulty in persuading an existing tool manufacturer to adopt the device for commercial construction. It seemed like many big tool and equipment producers, which produce and market more familiar tools in the millions of units, were hesitant to take a chance on a new and specialized device – and small producers were daunted by the challenges of building a distribution network of suitable scale.
And that is where I stepped up. I knew there were workers being beat up day after day by this punishing task while their employers, ready to do the right thing, were calling me and asking to buy the universal drill jig. I cashed in my savings, opened up a small shop, and started fulfilling these orders.
And that's where I am today. The mission presents a lot of challenges and Ergomek, my new firm, is a bit different than the typical Silicon Valley start-up you read about in the paper, but I wouldn't have it any other way. I'm doing my part to help construction firms improve their bottom line while helping construction workers enjoy a better quality of life and longer careers.
Ed. Note: Alan Barr is Principal Development Engineer at the University of California, Berkeley, Ergonomics Program, and co-founder of Ergomek. For information about his research email Alan.Barr@ucsf.edu; information on the DrillBoss universal drill jig can be found at www.ergomek.com.
Ergonomic research on concrete drilling was supported by CPWR under a cooperative agreement with the National Institute for Occupational Safety and Health, NIOSH (OH009762). The contents of this column are solely the responsibility of the author and do not necessarily represent the official views of NIOSH.