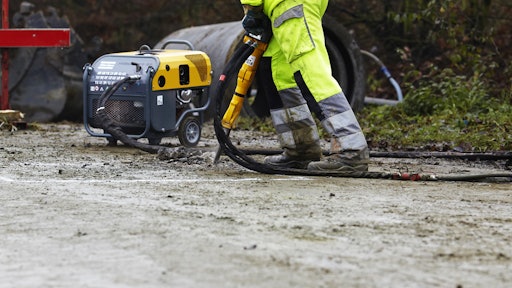 Contractors have always been faced with the challenge of getting the most use out of their equipment and achieving a fast ROI. With the development of Tier 4 Final equipment and the subsequent rise in costs, contractors are reevaluating their applications and taking a look at more economical options, such as hydraulically powered tools and equipment.
Hydraulic equipment is widely used in Europe and is growing in popularity in the U.S. due to its high versatility and competitive price point. With the implementation of Tier 4 Final standards, the requirement will eventually phase out Tier 4 Interim diesel engines from the marketplace and nudge U.S. contractors toward higher priced equipment. This economic driver is pushing contractors to escape the tier pressure with alternative equipment that feature attractive ROI and excellent versatility.
Hydraulically driven ROIs
Hydraulic equipment is a versatile and cost effective alternative to pneumatic tools. There is a wide range of hydraulic tools, from cut-off saws to hydraulic hammers that contractors can use to complete almost any task. And hydraulic equipment is relatively inexpensive to maintain and purchase. For instance, contractors can get an entire hydraulic tool package—a power pack, twin hoses and a hand-held tool—for less than $5,000. If contractors have a truck equipped with a built-in hydraulic pump, they might only need an oil-flow divider to regulate the oil pressure, so getting setup with a hydraulic tool will cost even less.
There's more to hydraulic tools than money savings, though; indoor/outdoor capabilities, wide tool selections and high outputs make hydraulic tools a versatile and desirable option. The hydraulic power packs are small enough to be brought indoors yet are rugged for outdoor use. Many hydraulic tools, such as breakers, are generally more powerful than pneumatic equipment, because hydraulic oil has more resistance than compressed air. For nearly every pneumatic tool, there is a comparable hydraulic counterpart that fits a variety of applications, including construction, demolition, landscaping and road building and repairs.
Low cost of ownership and minimal downtime is another highlight of hydraulic equipment. Hydraulic power packs require minimal maintenance—regular oil and filter changes and topping off hydraulic oil in the reservoir. This creates short turnaround times for repairs. Some manufacturers also use biodegradable hydraulic oil, which is safer than other hydraulic oils in the event of a spill and less costly to clean up.
Hydraulic tool maintenance, like the power packs, is quick and simple. But, before the tool leaves for the jobsite, owners should simply check for oil leaks, tool damage and excessive wear. They also should refer to the manufacturers' owners' manuals for maintenance schedules.
The power behind hydraulic tools
A typical hydraulic power pack measures 25 inches tall, 25 inches wide and 30 inches long and easily fits inside a truck box along with other hydraulic tools, such as T-handle hydraulic breakers and cut-off saws. This makes packing a power pack and tools faster, easier and more efficient because more equipment fits in one vehicle instead of loading and securing single- or dual-axle trailers. And for some contractors that have trucks with built-in hydraulic systems, loading and unloading is even easier, since crews might only need to pack the tool and an oil-flow divider.
There are multiple hydraulic power packs that operators can match to their particular tools. For instance, a nine-horsepower power pack generates sufficient hydraulic flows for most hand-held hydraulic tools, including breakers, post hole drivers and saws. Some manufacturers offer power packs with as much as 18 horsepower, which generate the required flow for some of the biggest hand-held equipment, such as 80-pound hydraulic breakers. And operators can increase their productivity by attaching two hydraulic tools to a single unit that features twin engines.
In addition to flexibility, hydraulic power packs operate efficiently and help contractors save on fuel costs. The engines are relatively small so they need minimal fuel to drive the hydraulic oil to the tools, which results in low fuel consumption. To reduce fuel use even further, some power pack manufacturers install specialized fuel systems that conserve fuel until the operator engages the tools' throttles. This saves fuel that would otherwise be wasted during idle periods and allows the operator to work longer between refueling.
With hydraulic power packs contractors can work on cramped worksites, such as stairwell landings, and maneuver around tight corners with a wheeled chassis and handle. Once in position, they simply attach the tool, start the power pack and begin working.
Hydraulic tools also are the equipment-of-choice for limited noise and vibration worksites, such as hospitals and museums, because their compact, hydraulic engines generate as few as 90 decibels and produce minimal vibrations. With minimal construction noise and vibrations, surgeons, for example, can concentrate on surgeries, and museums don't have to worry about vibrations damaging irreplaceable artwork.
Tools of the trade
Contractors have a wide range of hydraulic tools to select. Here's a brief overview of some of the most common hydraulic power tools, including cutoff saws, medium-sized breakers, post drivers and submersible pumps.
For concrete repairs and replacement, a 14-inch hydraulic cut-off saw is the tool of choice. This type of cut-off saw spins as fast as 4,000 rpm and is designed to cut through 5-inch thick concrete, asphalt and steel, making it great for removing precise sections of concrete slabs from walls. For cutting on floors, poured concrete and roads, some manufacturers also offer an attachable cart. The cart allows the operator to push the saw across the concrete without straining their backs from prolonged crouching.
Contractors use hand-held hydraulic breakers for several indoor and outdoor demolition and renovation jobs. Their high working pressures and impact rates make the breakers ideal for removing brickwork and demolishing asphalt and concrete. Like many hydraulic tools, hydraulic breakers have high power-to-weight ratios. For example, 50-pound hydraulic breakers have roughly the same output as 60-pound pneumatic breakers, which give operators hard-hitting power in lightweight tools. Plus, some manufacturers include vibration-reduction features that minimize operator fatigue and the risk of injuries during prolonged use.
Post hole borers allow contractors to dig holes for a wide range of applications. Post hole borers use augers that range from 3-1/2-inch to more than 13-inch diameters and feature powerful torque outputs—as much as 232 foot-pounds—to quickly drill precise holes for road signs; plant trees in public parks; and dig footings for fence posts and decks. Some borers feature adjustable torque limiters to prevent the post hole borer from spinning if the auger hits a stone. And two-way rotation capabilities make the augers efficient in stony soils by loosening compacted soil and spinning backward to help operators lift the tool out of the hole when finished.
To remove water from areas such as construction sites, flooded basements or utility tunnels, contractors turn to hydraulic submersible pumps. These pumps typically draw more than 500 gallons per minute and handle solid debris as large as two inches in diameter.
Extending service life
From breakers to saws there's a wide range of hydraulic tools to fit nearly any fleet and project. The versatility, easy maintenance and cost effectiveness gained help contractors overcome the challenges of Tier 4 pressure for greater longevity, versatility and most importantly, ROI.
Ed. Note: Gus Armbruster is the product manager for Atlas Copco hand-held Construction Tools. He plays a key role in the development and marketing of Atlas Copco's hand-held construction tools, including breakers, drills, hammers and rivet busters.
Companies in this article