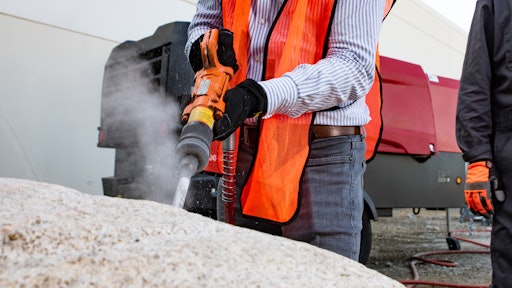 APT
As Brian Hendrickson, trade manager, rental and retail, Hilti, reflects on impact drivers' latest trends, their ergonomics, run times and speed especially stand out. For instance, many impact drivers are now very compact, enabling them to be utilized in tight spaces.
In addition, end users' comfort is ensured, as long as more and more impact drivers have comfortable grips. To completely notice the benefits of their comfortability though, end users must also establish a correct balance in the tool.
Aside from providing high comfort, impact drivers can currently be used all day long, due to their brushless motors and efficient batteries. And since the tools—which are available with continuously improving cordless options—offer end users high speeds, they can also save time as they conduct high-volume fastening.
The Future of Hammer Drills and Jig Saws
On the other hand, with regards to hammer drills, all trends are indicating cordless options will be the primary offerings of the future.
"Cordless hammer drills provide end users the safety and comfort features of traditional corded tools: active torque control (ATC) to help protect them from spinning tools, which are caused by bit jams, and active vibration reduction (AVR) to allow end users to work longer with less fatigue," Hendrickson adds. "End users can also utilize the a single-battery platform, which enables large diameter drilling—without requiring them to be near power sources."
Of equal importance, a single-battery platform is being utilized for a wide assortment of tools, aside from hammer drills. As a result, hammer drill users are able to complete their tasks faster than they previously could, as they can use the same batteries on several other tools in order to complete the tasks that they can't finish with hammer drills.
Similar to hammer drills, present trends are suggesting that cordless platforms are also quickly becoming popular for jig saws. After all, jig saws—which don't require any cumbersome cords—enable better end user experiences. Additionally, since jig saws are available in an array of options, including barrel grip and top handle, end users have more variety as they strive to choose whichever option is the most suitable for their unique preferences.
"AVR has also been implemented into jig saws for end users' comfort," Hendrickson said. "Meanwhile, built-in dust removal systems help streamline end users' on-site safety, while also reducing the amount of jobsite cleanup that's required after all cuts have been completed."
As is the case with hammer drills, by using jig saws on single-battery platforms, end users are able to complete their job tasks faster, but for completely different reasons. Through cordless jig saws, end users can eliminate the downtime that's generally associated with searching for extension cords.
Choose the Most Suitable Tool Possible for Each Job
Aside from impact drivers, hammer drills and jig saws, trends are also being noticed with handheld pneumatic tools, as they offer end users versatile options for a wide range of construction, demolition and utilities jobs.
First, end users are able to find pneumatic tools that are ideal matches for whichever type of material they need to work with, whether it's clay, concrete or metal. The primary reason? A variety of pneumatic tools are now available, including breakers and hammers, and the options are continuing to increase.
"As long as air is available on a jobsite, pneumatic tools will reduce the time that's necessary to complete any job that requires demolition, as well as any depth of drilling," said Andrew Mayer, national sales manager, APT Tools.
To ensure end users' ease of use and productivity are as high as possible on the jobsite while they utilize their handheld tools, Mayer said users must select the proper tool for each of their respective applications.
"Tool choice will depend on end users' jobs at hand, as well as the material they're working on," he said. "Different materials require different levels of performance. For example, a breaker that's ideal for working on asphalt will not be able to deliver good results when end users are working on the hard concrete of an airport runway."
As end users conduct the following tasks, Mayer advises them to use these tools:
Demolition: For brick and concrete masonry or horizontal applications, end users should utilize a pneumatic chipping hammer. They'll be able to choose from a wide selection of breakers, based on extra rigid pavement, flexible pavements and highway rigid pavements.
Drilling: In order to conduct construction and production drilling in mines, end users should use rock drills.
Special utilities: Finally, to perform their special utilities tasks, end users can utilize multiple tools, including impact wrenches, scabblers, scalers and tampers.
Furthermore, one final trend concerning handheld tools has been especially noticeable lately. Single-battery platforms—that enable large and small tools to be used at the same time—are becoming increasingly critical for end users and rental operators. After all, they allow end users to rent numerous tools with a single set of batteries and a charger. And they simplify the rental process considerably, as they ensure a compatible battery is always placed on each rental.
"The flexibility that a single-battery platform creates is the future of the rental industry," Hendrickson said.
Companies in this article