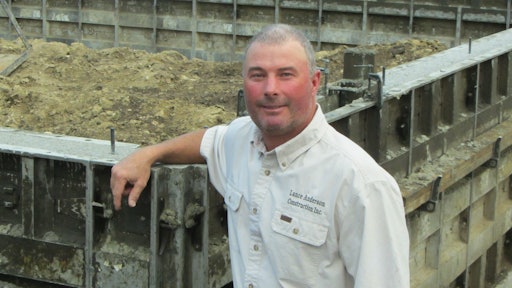 Lance Anderson is the owner of Lance Anderson Construction Inc. (Yankton, South Dakota) and maintains a passion for precision with every foundation and wall he constructs. On average, he and his crew place 115 foundations a year, but now he is setting his sights on making concrete homes an acceptable form of residential construction vs. traditional wood frame built homes.
Like his father before him, Anderson is a civil engineer, a skill set he says has helped him be a successful contractor. The business was started in 1978 by his parents, Wayne and MaryLou Anderson. After spending three years working for the Los Angeles Public Works department Lance found a reason to return to his roots in South Dakota.
"At the time, my wife was pregnant and my dad lost several members of his crew," he says. "I came back to South Dakota in 1992 to try and help my dad with the business."
Anderson helped the business flourish and in 2006 he and his wife Lisa, purchased the business from his parents. Lisa manages the bookkeeping, vehicle movements, bonding and licensing, among numerous other front office business functions. The contractor performs work in three states – South Dakota, Nebraska and Iowa.
As a leader, Anderson is present on every jobsite during the placement of footings and walls. He says this year, he is approaching 2,800 foundation placements since his return to the business in 1992. While other contractors of his ilk have focused on diversifying their business, Anderson says he has no interest in expanding beyond footings and walls.
"I want to pour walls and be the best at it," he says. "We're very successful right now, and I think contractors that specialize in fewer products seem to be the best. For us, its footings and walls. I have the advantage of being able to choose who I want to work for and what jobs I want to do."
Building Concrete Homes
While he is committed to continue his legacy of excellence constructing foundations, he also sees an opportunity with building concrete housing and storm shelters.
"Throughout the country, you see the devastation that occurs after a hurricane or tornado destroys neighborhoods and towns," he explains. "And every time a weather disaster occurs I always think this would be so easy – rebuild these areas with concrete housing."
One of the key events that propelled Anderson's interest in concrete housing and shelters occurred in 2008, when a tornado ripped through the Little Sioux Scout Ranch in Iowa. The tornado killed four Boy Scouts and injured 48 others.
"I know the people who run the Lewis and Clark Boy Scout Camp in Yankton, South Dakota and I thought to myself, with so many scouts who use the camp, there has to be a need for some shelters," Anderson explains. "When they approached me about their need for emergency shelters should a tornado occur, we sat down and came up with a solution. Let's face it, we live in South Dakota, and tornados do come through here."
The leadership at the scout camp determined how many shelters they needed and asked Anderson to help layout and build two shelters. The shelters themselves are multi-purpose, serving as shower facilities and storage units.
"I always wanted to build a solely encapsulated concrete structure," Anderson says. "I built the two structures at the Boy Scout Camp and thought, a concrete house is the same principle of construction. I have a lot of years of thinking into it."
As such, Anderson is now constructing a prototype concrete home
"I'm building it as a model home for others to see what can be done. I've designed it the same way as the storm structures and when it's completed, it will be a fully encapsulated home in concrete."
He says the prototype home will look the same as a regular, wood frame-built home. The outside will include stucco stone work and a brick pattern. On the inside, the walls are six inches thick and will be finished with two by four framing. Cellulose insulation will be blown into the cavities and the walls will be finished with sheet rock.
Anderson constructed a pull-away roof using a simple truss design. If a storm should occur and blow away the roof, the structure will still have its concrete roof and remain viable.
Benefits of Concrete Homes
Lance cites numerous benefits to a concrete home including reduced insurance costs due to their resistance to fire, hurricane force winds, pest infestations, mold issues, radon issues, and theft protection. Concrete homes are also more energy efficient, sound proof and the time of construction can be greatly reduced.
"Concrete homes can be built in areas where hurricanes and tornados are a regular occurrence. You could leave this house somewhere and after a major storm, it will still be in its place," he explains. "If we were to take all the damage that insurance companies cover and combine them together, owners will find a concrete house doesn't have the same issues as a traditional house."
Anderson says there is a sustainable reason for concrete homes in the market, even if the concept hasn't quite yet caught on. "It would be unfortunate, but we'll have to see a tornado level a town in order for consumers to take notice. If you have a half a dozen of these houses on a city block and they are the only structures left standing, I guarantee people would start to realize the benefits of a concrete home and start asking questions. In a case like that scenario, the people inside the house would be safe and the house would still be standing."
In the meantime, Lance will continue to do what he has done for the last 10 years and run his business successfully. He says he would like to transition to building the concrete cabins.
"There are a lot of state parks in South Dakota which also include wood-built cabins," he explains. "Over the years, those cabins receive damage and I'd like to propose to replace them with concrete cabins that could serve as tornado shelters. It's a win-win for everybody."
Ed. Note: Lance Anderson was awarded the 2015 Contractor of the Year by the Concrete Foundations Association.