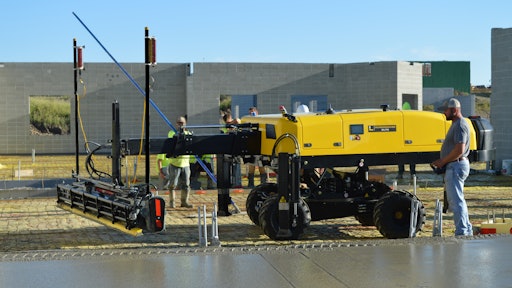 Ligchine
With World of Concrete 2021 on schedule for an in-person event (the first major tradeshow in the country, by the way), we collected a quick shortlist of products you'll find on the show floor. World of Concrete is scheduled to run June 8-10, for Las Vegas—remember, there will be no on-site registration this year, so make sure to register online as soon as possible. 
Forget your face mask at the gate? Don't worry, while the show isn't requiring a face mask but they are recommended. A fask will be available for guests should you not have one of your own. Attendees are asked to follow all CDC guidelines for social distancing. The show provides a list of all safety precautions each guest are asked to required to follow.
The weather forecast says it should be hot, so keep cool, hydrate, and stay safe.
6 Products You'll Find at This Year's World of Concrete
As presented in Concrete Contractor April/May 2021.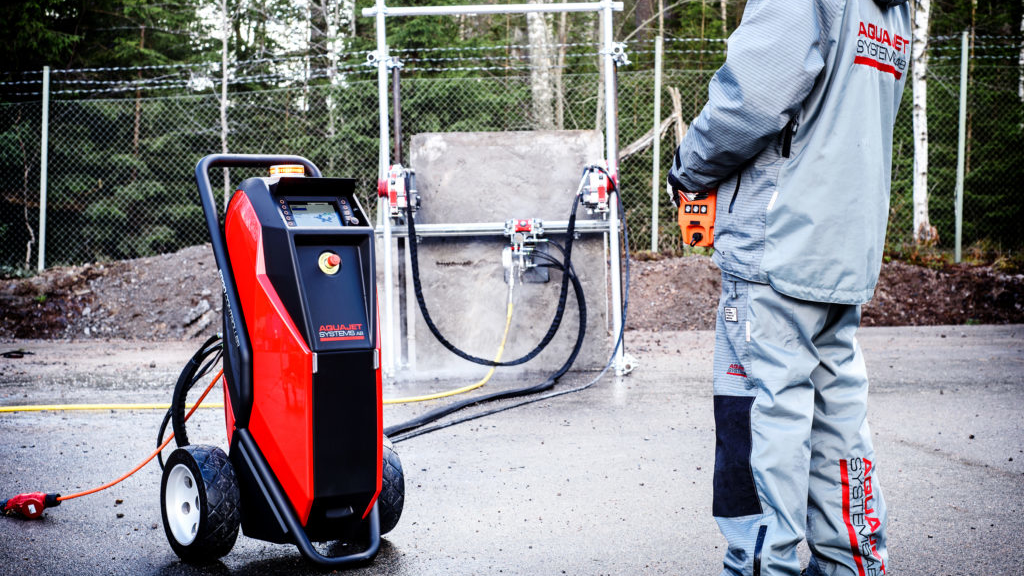 The robot offers four times the power of a hand lance in a compact footprint that contractors can easily move around the jobsite. It is ideal for work on floors, walls and ceilings.AquajetThe Ergo System hydrodemolition robot exerts 225 lbs. of reactive force to quickly, easily and consistently remove concrete to a preset depth.
Includes the Ergo Controller unit, Ergo Power Head to manipulate the high-pressure lance, and spine or climber to support and maneuver the power head based on project needs
271-lb. controller measures 44 in. tall and 17 in. wide and includes wide wheels and low ground pressure for easy transport
Climber attaches to standard scaffolding pipes and robotically moves along it for vertical concrete removal and repair
See this product at Booth #W703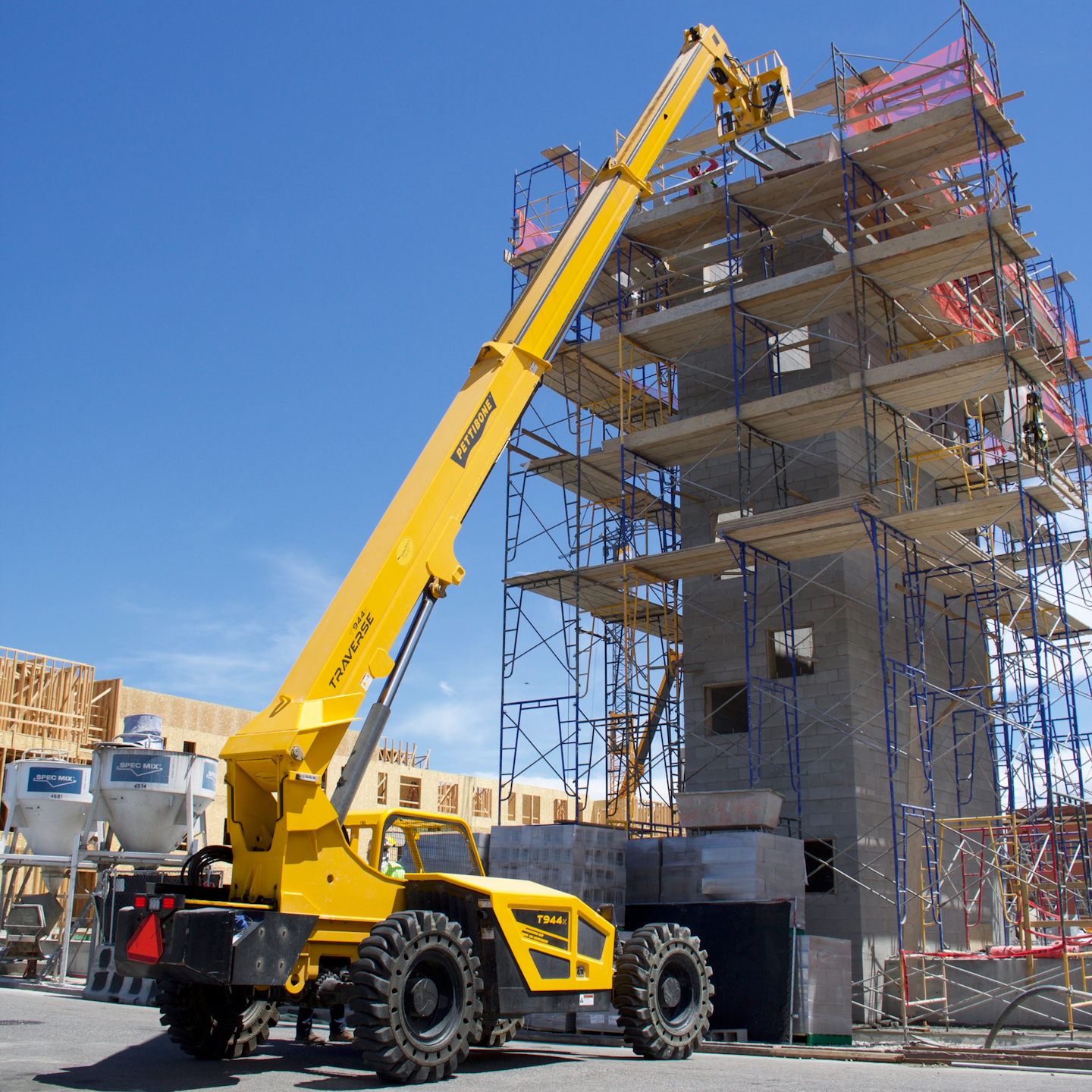 The T944X builds upon Pettibone's traditional rock-solid design, delivering the same ruggedness and dependability while providing several new design enhancements.Pettibone Traverse Lift LLCThe Traverse T944X telehandler features an extendable, traversing boom that moves loads by traveling horizontally, providing up to 70 in. of horizontal boom transfer for precise and safe load placement at full lift height.
Specified lift height of 44 ft. 6 in. is nearly identical to the 44-ft. landing height
Traversing boom allows for maximum forward reach of 35 ft. 10 in.
Maximum lift capacity of 9,000 lbs.
74-hp Cummins QSF 3.8 Tier 4 Final diesel engine features a DOC muffler and requires no diesel exhaust fluid
Side pod engine offers easy service access and optimal curbside visibility
See this product at Booth #W731
The SCREEDSAVER ELITE is Ligchine's newest laser-guided concrete screed machine to join the SCREEDSAVER line of innovative, labor-saving machines.LigchineThe all-wheel-drive SCREEDSAVER ELITE includes a 12-ft. head that allows for more finished square footage per pass, plus its side-shift ability makes it easier to screed around stick-ups in the slab with precise accuracy.
Heavy-duty boom sections reach out to 18 ft.
Narrower chassis fits through smaller doors or onto smaller trailers
Improved radio provides more intuitive layout and diagnostics at the operator's fingertips 
Includes a 65-gal. onboard fluid tanks and an onboard pressure washer for cleanup
Optional dual trackers to match surfaces without extra cabling or software
See this product at Booth #N2837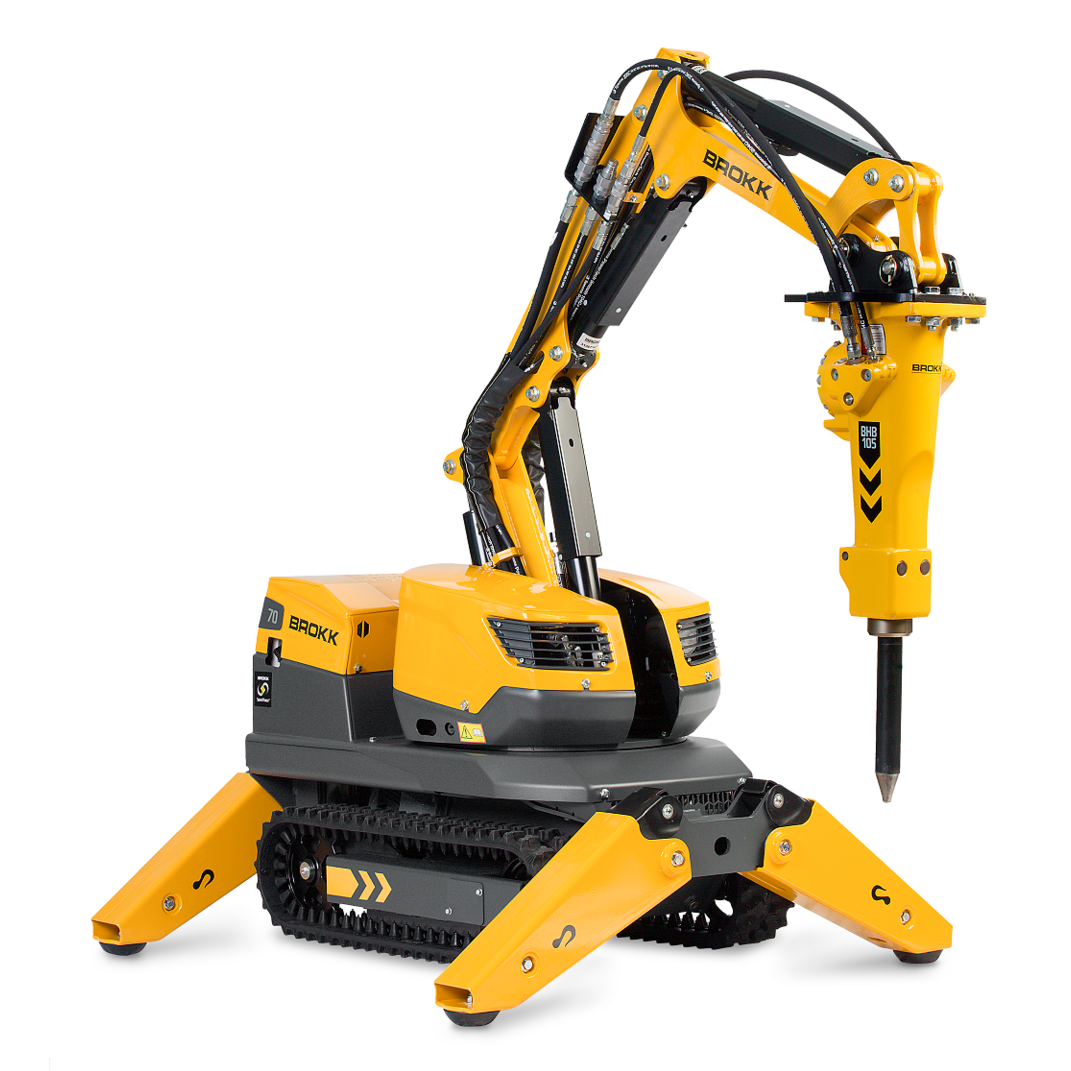 The Brokk 70 incorporates the SmartConcept system, which includes SmartPower, SmartDesign and SmartRemote for improved performance and uptimeBrokk Inc.The Brokk 70 incorporates SmartPower, the company's signature intelligent power management system, and boasts 9.8 kW of power with a hydraulic output of 5.5 kW.
Measures 35 in. tall and 23.5 in. wide and fits through narrow doorways and into tight spaces
Base weight of just 1,235 lbs. allows transport on an ordinary passenger elevator
Three-part arm extends to 10.5 ft. vertically and 8.8 ft. horizontally
Outfitted with a BHB 105 hydraulic breaker with 159 joules of hitting power
Ergonomic SmartRemote remote control with almost 1,000 ft. of wireless working range
Brokk's SmartPower—the company's signature intelligent power management system—is the smallest electric robot in the Brokk range offers 100% more power than its predecessor, the Brokk 60 II, yet retains the same compact dimensions with only a 133-lbs. (60-kilogram) weight increase. With the BHB 105 breaker, the Brokk 70 brings safe, efficient demolition to the most confined spaces and is ideal for a variety of applications and industries.
See this product at Booth #W703
The Lavina Elite V32 Dust Extractor takes dust collection to a new level of performance and productivity. Lavina Elite dust extractors feature important upgrades for efficient dust management on the jobsite and are OSHA compliant.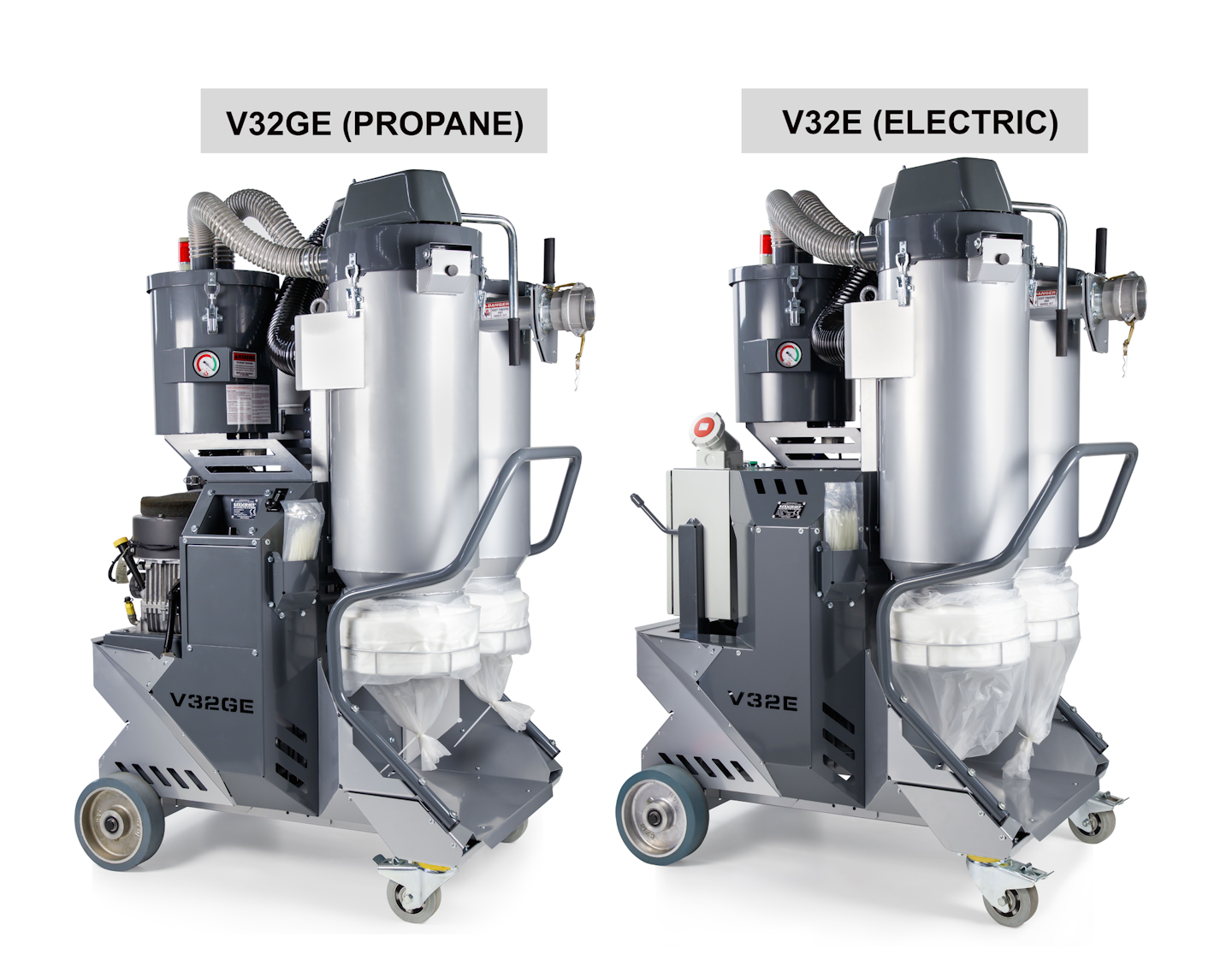 The Lavina Elite V32 Dust Extractor features a four-stage dust collection system and is available in a propane and electric version.Superabrasive Inc.

Four-stage dust collection for a dramatic increase in cleaning efficiency: Integrated pre-separator captures the large particles and extends filter life; Second cyclone around the conical filter captures the mid-sized particles; Conical M class filter with high air permeability and large filter area for better suction and longer working time between cleaning intervals with a large filter area; and a Hepa filter H13 as the last filtration point captures 99.95% of particles 0.15-0.23 μm.
An integrated emergency lamp reminds the operator to clean the filter.
Option to upgrade to automatic cleaning
Lighter and more compact body design.
Offered in propane (V32GE - 470 cfm) and electric models (V32E - 490 cfm, 220V or 480V).
See this product at Booth #N2305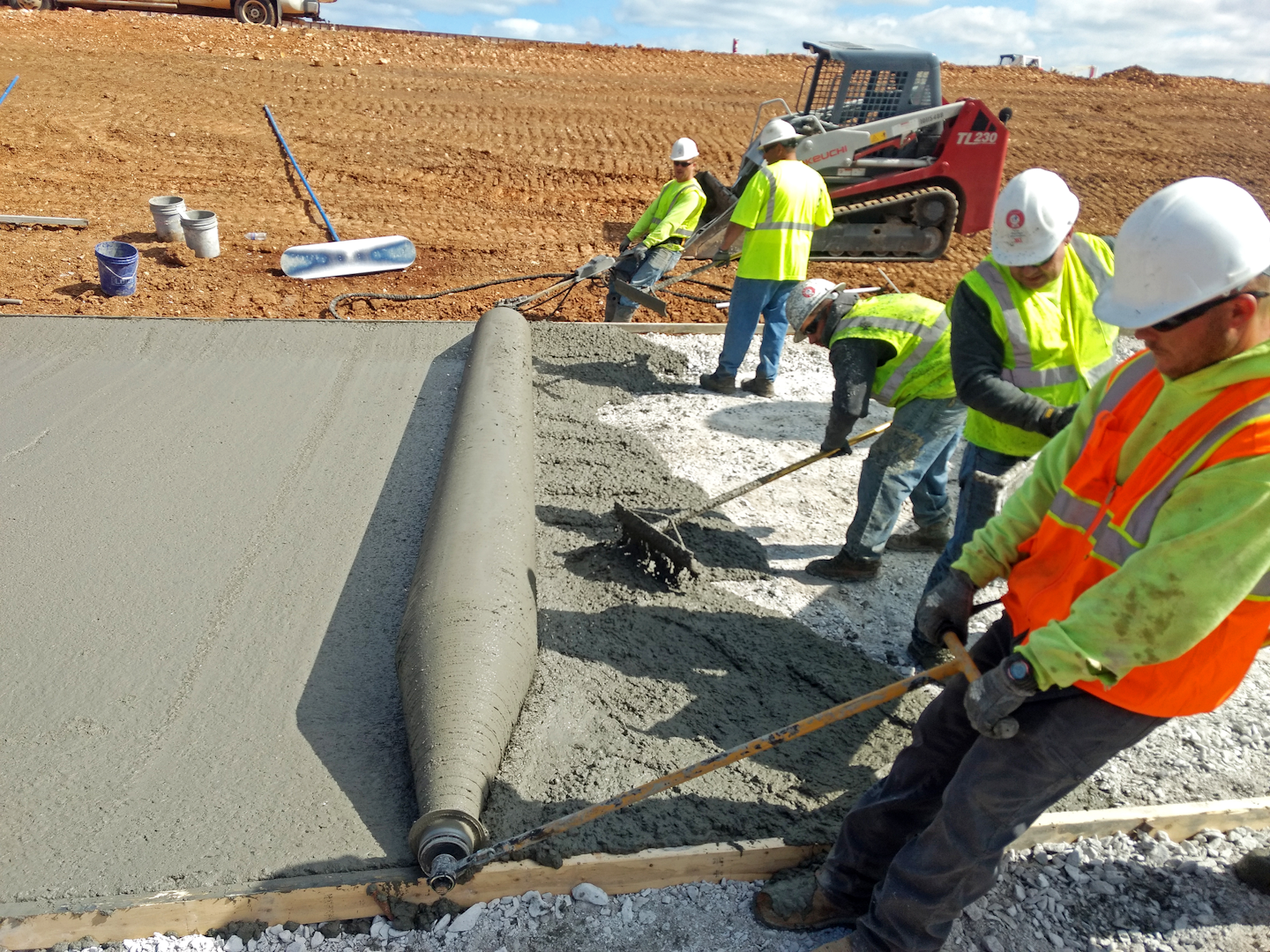 Designed with the operator in mind, the Hydra-Screed HS3000 has many features that make operation comfortable and efficient.Curb Roller ManufacturingThe Hydra-Screed HS3000 has the weight and strength to move over 6 in. of concrete along the pour while allowing operators to remain in a standing position.
Screeds up to 30 ft. in length
Rubber inserts can easily be removed to accommodate any desired length of pipe, custom V-flume, crowned roller screed and other desired profiles
Two-way variable speed control
Single pin allows for direction change
Handles pivot into the desired position
Requires 3 to 5 gpm at 2,250 psi
See this product at Booth #D934