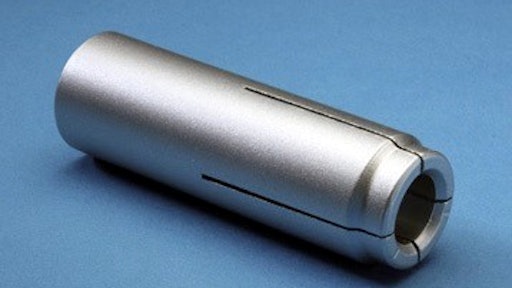 This drop-in anchor is ideal for use in solid concrete, such as inserting threaded rod to suspend electrical cable trays, HVAC ductwork and fire sprinkler pipe and heads to solid concrete. They can be used in applications that require a flush mounted anchor, or when a bolt needs to be inserted and removed.  It is essential to use the drop-in anchor only in solid concrete and never in brick or block, and to verify that the environment will be indoors and dry. The setting tool must be purchased separately; one set tool for each diameter.
Available in standard zinc plating, 304 stainless steel and 316 stainless steel.
Offered in five diameters which feature national coarse internal threads.
The holding values of the CONFAST Drop-In anchor are mainly dependent on the psi of the concrete and on the depth of embedment.
Other factors include if steel rebar is in the concrete and on the full expansion of the CONFAST Drop-In anchor.
The CONFAST Drop-In anchor has sides that are smooth to allow for more surface area to be in contact with the concrete, thereby providing consistent holding values.
Request More Information
Fill out the form below to request more information about
CONFAST Drop-In Anchors