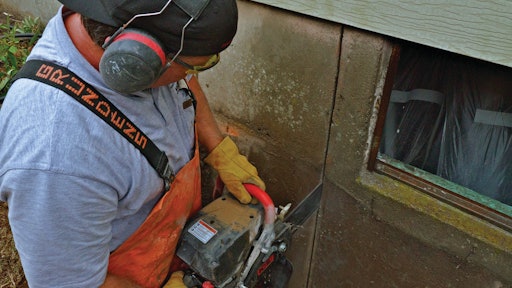 The Concrete Saw & Drilling Association (CSDA) has released two revised standards that provide guidelines and valuable information for architects, engineers, general contractors and government officials that are involved in concrete cutting, polishing, ground penetrating radar (GPR) imaging and selective demolition work.
The standards CSDA-WS-106 Wire Sawing and CSDA-DB-112 Diamond Blades were revised and released by the CSDA Standards & Specifications Committee. A best practice, CSDA-BP-019 Robotic Demolition, was also revised and released.
All three of these documents can be found in the CSDA Resource Guide, along with over 40 other standards, specifications, best practices, tolerances and white papers. Each one has been carefully written, reviewed and approved by experts in the field and is subject to regular updates by the association's Standards & Specifications Committee. The guide can be downloaded in its entirety or as individual documents at www.csda.org/specifications.
"The systems employed by CSDA contractors can provide significant cost advantages over conventional removal and inspection methods, yet many specifiers are unaware of these techniques and capabilities," explains CSDA Executive Director Patrick O'Brien. "Whether it is a major infrastructure project such as a power plant or dam renovation, or a highway or airport surface repair job, cutting, polishing, imaging or selectively demolishing concrete can be much more cost effective than other methods."
To further assist specifiers in finding these specialist contractors, the CSDA 2019-2020 Membership Directory contains a complete listing of all North American and overseas members from 23 different countries. There are also listings of those member companies that manufacturer or distribute tools and equipment associated with concrete cutting, polishing, GPR imaging and selective demolition.
These resources have been specifically developed for specifiers to aid in the compilation of specifications for renovation or demolition projects requiring the use of diamond tools. For more information, contact the CSDA office at (727) 577-5004 or email [email protected].