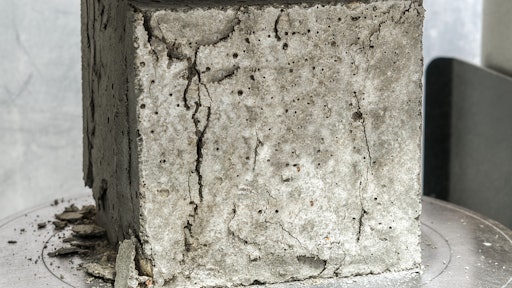 Adobe Stock Photos | By nordroden
Republished with permission. Originally published Dec. 2, 2020 on The Bulletin, www.bendbulletin.com.
By Scott Christiansen
You have probably heard about Portland cement, which is the glue that holds together the aggregates of stone and sand that end up as concrete.
Portland is located on the southern coast of England in the English Channel, and Portland cement is derived from its resemblance to Portland stone, which was quarried on the Isle of Portland as far back as Roman times as a source of stone for buildings and stone sculptures.
As a point of clarification, Portland, Oregon, got its name from Portland, Maine, when early pioneers Asa Lovejoy and Francis Pettygrove flipped a coin in 1845 to name the city. Lovejoy was from Massachusetts and he wanted to name the new settlement Boston; Pettygrove was from Maine and wanted to name the new town Portland. Pettygrove won the toss.
Game-changing technology
Getting back to the real story here: This is a report about significant developments concerning both our built environment and climate change mitigation.
As the global population rises, urban areas around the world are booming, and that means more and more construction. By one estimate, the world will add 2 trillion square feet of buildings by 2060 — the equivalent of putting up another New York City every month for the next 40 years. Concrete production is estimated to emit 7% of the global greenhouse gas emissions because every ton of concrete that is made liberates one ton of carbon dioxide .
CO2 generated during the manufacture and transport of concrete is scientifically known as "embodied carbon."
What is CarbonCure?
CarbonCure (CC) is both a process and the name of a company, representing a new way of making concrete that injects CO2 into the concrete so that when it hardens, or cures, the injected CO2 is mineralized, incorporating it permanently back into limestone. The mineralized CO2 also increases the concrete's strength, which enables producers to reduce the amount of cement content in their mixes while still maintaining concrete strength and performance.
This is a win-win solution as it permanently locks away CO2 while also reducing the amount of carbon-intensive cement needed in concrete production.
According to Tony Spilde, director of communications at Knife River, one of the biggest providers of concrete in Central Oregon, the company is experimenting with CC technology but also using steel slag and fly ash as cement substitutes, which is typically cost neutral or less expensive than 100% cement mixes, reducing cement usage by an average of 15 to 30%.
Other actions for their ready-mix concrete business include minimizing waste by pouring left-over concrete from trucks into forms to create blocks for retaining walls, and recycling water used to wash out trucks.
The key carbon reductions of CC are gained through cement reduction.
According to Jordan Palmeri from the Materials Management Program in the Oregon Department of Environmental Quality, "CC is just one tool among many that concrete producers can use. Some producers in the Bend area have been known to reduce cement use by 50% or more on concrete mixes, which yields significant carbon reductions. It's important when working with concrete producers not to specify the methods for reducing carbon. Instead, clearly communicate your carbon goals and allow the producer flexibility on how to reach those goals. That's how we'll support fast market-based carbon reductions for concrete."
Policy incentives in Oregon
The concrete industry is working with the state of Oregon to publish Environmental Product Declarations (EPDs), which is a third-party verified label that discloses the quantified environmental impacts of producing a product. Knife River is producing EPDs for hundreds of mix designs to give customers a clear picture of the components of the concrete.
In 2019, Portland, Oregon, developed a policy for concrete used in government-funded buildings. The policy currently requires that all city concrete purchases over 50 cubic yards have EPDs that disclose the carbon footprint of the mix.
In April 2021, the city of Portland will publish carbon limits on different strength concrete mixes. Finally, starting in January of 2022, the city will only buy concrete with EPDs that disclose carbon impacts below the established limits. Portland has an interesting case study involving low-carbon concrete in sidewalks that demonstrates how they hope to reduce the overall carbon intensity of the concrete mixes used in city projects.
Bend's Community Climate Action Plan lists the following strategy in part W2A of the waste and materials section: "Utilize low-carbon concrete mixes in city projects and create incentives to encourage developers to utilize low-carbon concrete."
In email communication with Bend's Mayor Sally Russell, she wrote, "I will recommend that this should be considered by the incoming Bend City Council in its goal setting, following discussions in the Environment and Climate Committee as they build their recommendations to council."
A fairly simple change
CarbonCure is not the only company that is accelerating green concrete manufacturing. Consider Solidia, and Blue Planet processes as well.
The CC CO2 mineralization process improves concrete's compressive strength, enabling concrete producers to use less cement, which further reduces the concrete's carbon footprint. This new technology is as simple as it is significant because retrofitting gear to inject CO2 at a concrete plant takes only a day or two.
About the author
Scott Christiansen is an international agronomist with 35 years of experience. He worked for USDA's Agricultural Research Service and the U.S. Agency for International Development.