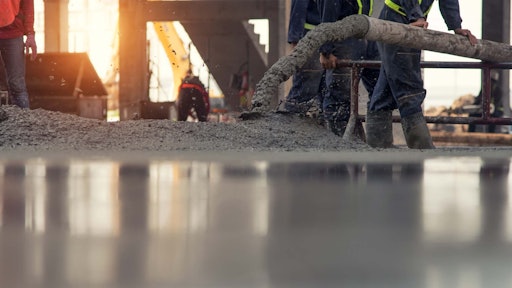 Saint-Gobain Construction Chemicals
As one of the leaders in sustainable construction, Saint-Gobain Construction Chemicals announced significant projects across North America to optimize services and extend production capabilities to new regions for its customers.
In the 10 months since GCP Applied Technologies Inc. joined CHRYSO within Saint-Gobain to form the new Construction Chemicals division, the focus has been on customer continuity. During that time, the company maintained consistent services, personnel, and products.
Saint-Gobain Construction Chemicals North America President Steve Williams says the companies focus will continue to being a leader connected to its customers. "Responsiveness is critical in our industry. By combining our two businesses, we can leverage the best local teams to provide hands-on service, improve lead times and optimize our overall services," says Williams. "I am proud to announce that we have invested in multiple Capex projects across North America to further strengthen our customer-centric focus, helping our customers grow their business."
To deliver the newly combined product solution portfolio to regions of North America where they are needed the most, the integration of manufacturing both CHRYSO and GCP products is underway. The first completion is the company's Royse City, Texas plant, which now manufactures both legacy companies' products. Other North American plants will soon also be converting to dual manufacturing capabilities.
As part of Saint-Gobain Construction Chemicals' technical focus, the company is extending its application lab network in the U.S. and Canada with a new lab planned to open later summer 2023. The expanded lab network will provide additional local testing capabilities for troubleshooting and product recommendations.
"The integration of CHRYSO and GCP offers more than 200 years of combined experience in innovation and technical services," says Saint-Gobain Construction Chemicals North America Technical Service Director Terry Harris. "From my days at GCP, to now leading the Saint-Gobain Construction Chemicals concrete Technical Service team, innovation continues to be our core." Earlier in 2023, the first co-developed solution from CHRYSO and GCP was introduced, EnviroMix SE - a strength enhancer designed to reduce concrete's embodied carbon.
With a continued focus on performance and sustainability goals, Saint-Gobain Construction Chemicals has been introducing other innovative product solutions designed to reduce the cement and concrete CO2 footprint, as well as enhance the circular economy. The combined CHRYSO and GCP companies have launched an extensive customer and employee consultation project on the future company brand.