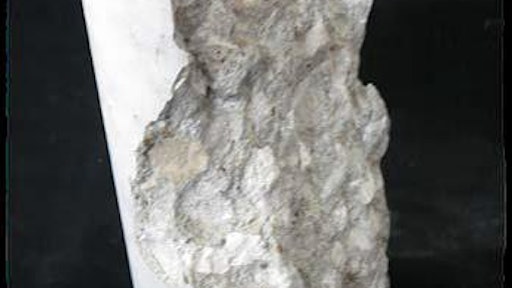 CoolCure is a revolutionary new technology that significantly reduces/eliminates the heat of hydration. At the same time while reducing heat, major increases in compressive strength and working/placement time are enabled with CoolCure. Through the utilization of advanced technology, a more balanced stoichiometry and nanotechnology, this new technology will change the face of concrete technology today.
CoolCure works by balancing the chemistry. This minimizes by-products and results in a more efficient reaction. While creating a more efficient reaction, more bonds are created that generate more strength. Increases in strength have been realized from 40% to 100%. The heat is reduced by minimizing the calcium hydroxide byproduct generation. Its exotherm is well known in chemistry. The calcium hydroxide is better utilized by creating more CSH (reinforcing bonds) instead of creating troublesome heat.
CoolCure is ideal for large mass pours, and can be implemented in existing cement mixing facilities and trucks. Its eco-friendly composition simply balances the chemical reactions, minimizes the by-product and resultant heat generation. At the same time it increases compressive strength.
CoolCure also greatly reduces the potential for delayed alkali–silica reaction (ASR). It occurs whenever concrete pH exceeds 12.5 and some portland is not fully wetted-out in the mix. Conventional concrete pH typically varies from 12.5 to 13.5 and Cool-Cure results in a pH of 12.4. Also CoolCure fully wets out the portland.
Quite simply, reduced delayed ASR = longer usage life.
CoolCure Benefits:

Balanced Reaction = less CaOH formation
No cooling or thermal management plans required
No fly ash or slag required
No thermal cracking
Reduced concrete porosity
No cooling aggregate
Improved freeze/thaw resistance
No cooling coils/chiller bundles embedded the concrete
No adding dry ice to the wet mix
Reduced energy and lower construction costs
No skin chemical burns
Fire and freeze stable = no explosive spallation
Extended delivery and placement time
Less relief cutting required
Bleed water eliminated
Reduced metal corrosion
Increased service-life
Enhanced low temperature placement temperature
Increased delivery range
No lost loads

Notably, CoolCure is a much safer solution than portland cement which is caustic and can damage the skin. Workers in contact with wet Portland cement are at risk of chemical burns and developing skin problems. CoolCure does not burn the skin.
Additionally, cure speeds can be customized upon request as CoolCure offers 'cure-on-demand' technology variations that can speed or slower the cure speed to meet end-users specific applications needs.
Request More Information
Fill out the form below to request more information about
New CoolCure Concrete Admixture