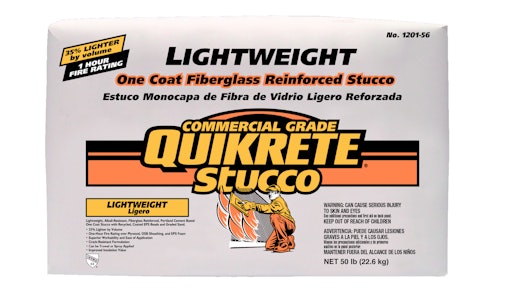 The QUIKRETE Companies is helping maximize jobsite productivity and profitability with the introduction of QUIKRETE Lightweight Fiberglass Reinforced Stucco (FRS). Recently granted IAPMO's Uniform Evaluation Service (UES) Evaluation Report ER-0455, QUIKRETE Lightweight FRS is 35 percent lighter than traditional pre-blended stuccos making it easier and faster to transport, stage, mix, pump, place and finish. In addition, QUIKRETE Lightweight FRS is one-hour fire rated and contributes to U.S. Green Building Council LEED credits.
QUIKRETE Lightweight FRS is a Portland cement-based plaster blended with recycled, coated Expanded Polystyrene (EPS) beads, uniformly graded sand, and alkali-resistant glass fibers. Ideal for expediting any residential, commercial or industrial stucco project.
QUIKRETE Lightweight FRS is available in 50-pound bags and 1,950-pound bulk bags that can be troweled or spray applied on traditional three coat scratch, brown and finish systems from 3/8 inch to 7/8 inch as well as one coat systems.
One 50-pound bag yields the equivalent coverage area of a traditional 80-pound bag of pre-blended stucco.
Products recognized with an IAPMO UES Evaluation Report have successfully undergone evaluation based on applicable requirements within the Uniform Family of Codes and the International Family of Codes, as well as codes published by other entities. ER-0455 refers to the 2015, 2012, 2009 and 2006 editions of both the International Building Code (IBC), and the International Residential Code (IRC), along with the 2016 edition of the California Building Code (CBC) and California Residential Code (CRC) for QUIKRETE Lightweight FRS in applicable code requirements.
QUIKRETE commercial-grade stucco materials have been used on many high-profile, landmark building and refurbishing projects like SeaWorld Pacific Point Preserve, Omni Nashville Hotel, The Broadmoor, U.S. Capitol and Statue of Liberty.

Request More Information
Fill out the form below to request more information about
QUIKRETE Launches the Lightest, Most Sustainable Stucco