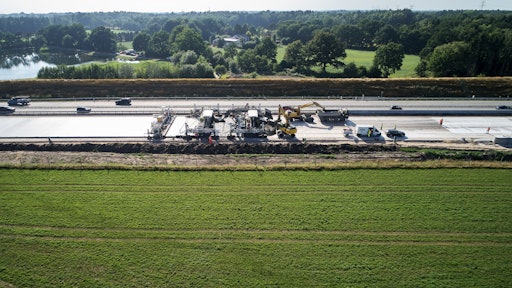 The A7, part of Germany's Autobahn, is being widened between Hamburg and Bordesholm from four lanes to six — and in some places to eight — to ensure that the motorway remains an efficient traffic artery. Aiming to create a pavement which would offer a high degree of driving comfort while withstanding the loads of heavy-goods traffic, the motorway consortium Via Solutions Nord and the joint venture ARGE A7 Hamburg-Bordesholm opted for steel reinforced concrete paving with an exposed aggregate concrete surface when widening the 37-mile stretch located in the Schleswig-Holstein region.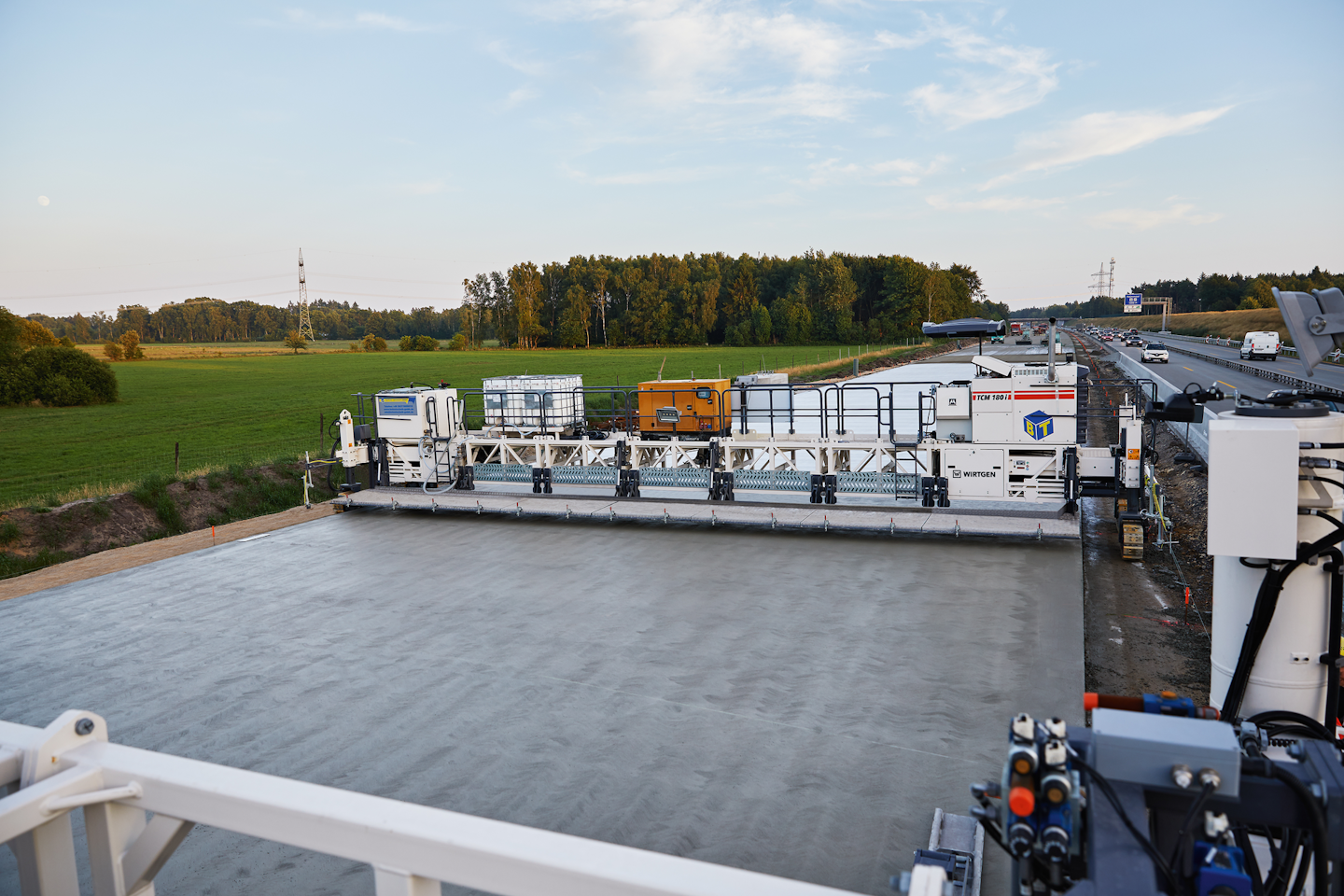 The team was able to achieve paving rates of 1,312 to 1,640 ft. in 12-hour shift operation.BT Beton-Technik GmbH, commissioned with the job, have been specialized in concrete pavement construction for many years. Managing Director Mirko Pokrajcic has been relying on technologies and machines from Wirtgen for just as long.
Kick-off: well-rehearsed moves
The concrete paving work was carried out by two Wirtgen SP 1500 slipform pavers. As the first paver advanced, its inset mould laid the concrete slab as specified, 47.6 feet wide and 9 inches thick. A total of 41 curved electric internal vibrators ensured optimum material compaction by means of high-frequency vibrations. Dowel bars were inserted into the fresh, pre-compacted bottom-layer concrete at 9.8-inch intervals parallel to the direction of travel and tie bars were inserted transverse to the pavement. The top-layer concrete was simultaneously loaded by excavator into the receiving hopper of the belt conveyor, transported over the top of the first SP 1500 and deposited directly on the bottom-layer concrete in front of the second SP 1500. The second machine compacted the material by means of 29 electric T-vibrators, as they are known, while paving it in a nearly 2-inch-thick layer. The duo from Wirtgen paved some 4,000 cubic meters of concrete each day in this way.
"Man of the Match"
Player No. 3, the TCM 180i self-propelled curing unit, followed hot on the heels of the pavers. With working widths up to 59 feet, it is an ideal team mate for the two SP 1500s and is the team's technical player. Its task is to spray a special combination of anti-evaporation agent and surface retarder onto the new concrete pavement. The anti-evaporation agent protects the fresh concrete from premature drying during its hardening phase.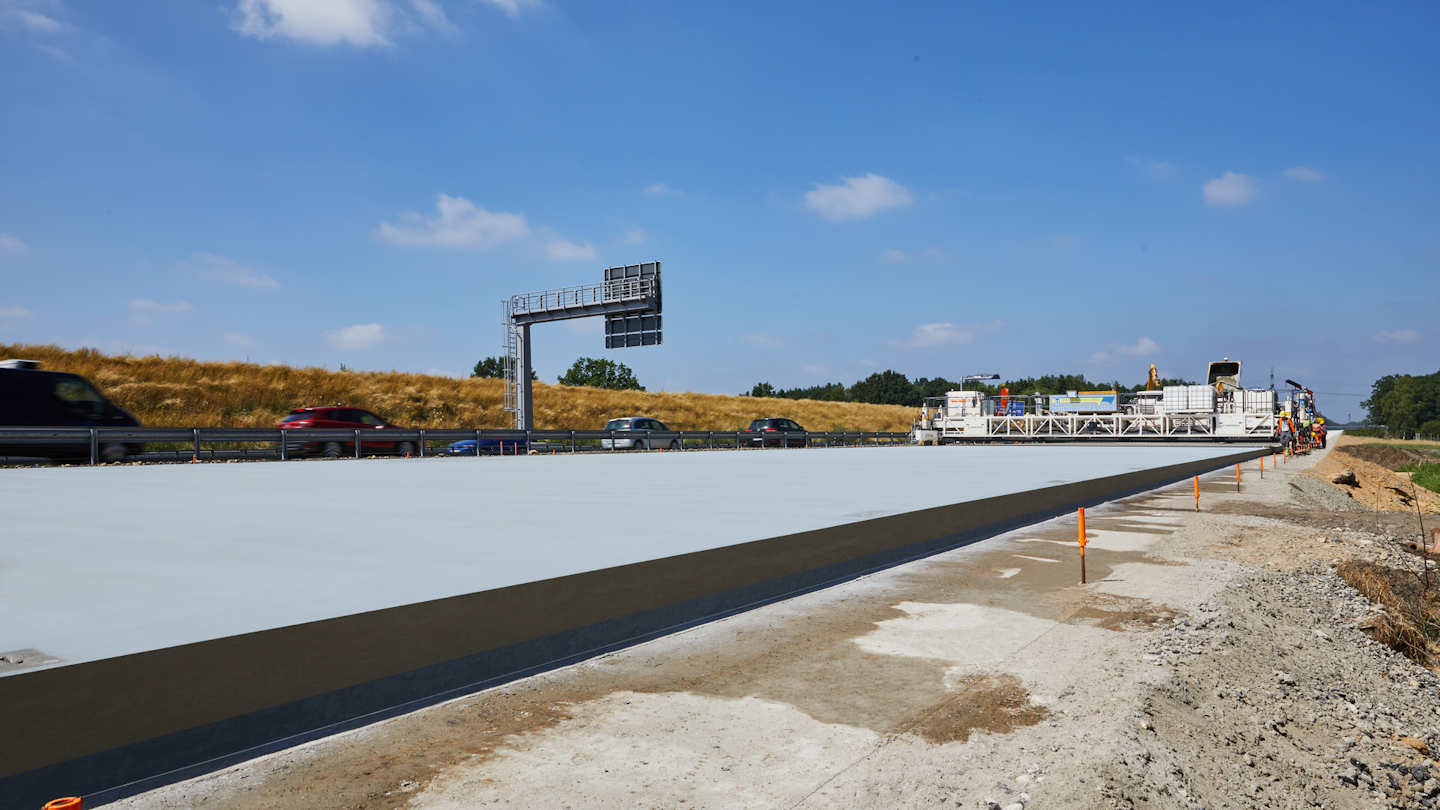 With working widths up to 59 ft., the TCM 180i is the ideal team mate for the two SP 1500 pavers. It ensures optimum curing of the new concrete pavement.The retarder enables the surface mortar to be swept off, exposing the high-grade broken aggregate in the top-layer concrete. Depending on weather conditions, this can be done some four hours or more after paving. This gives the concrete pavement the required peak-to-valley depth and lasting grip. A curing agent is once again sprayed over the exposed aggregate.