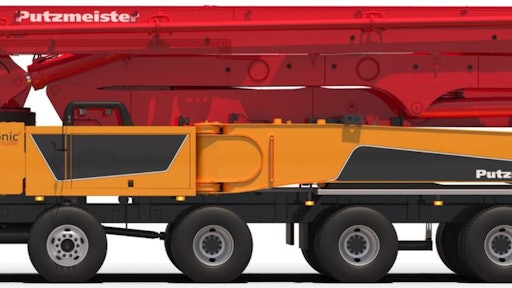 Putzmeister America, Inc. introduces a remodeled 63Z-Meter Truck-Mounted Concrete Boom Pump that will retain its Department of Transportation weight compliance as it crosses state lines.
Much of the weight adjustment is due to the return of a three-section front outrigger leg design. Truck manufacturer Mack Trucks worked exclusively with Putzmeister to develop a seven-axle chassis and relocate the emissions package in order to accommodate the outrigger setup. Operators familiar with the unit will recognize the three-section design from the original 63Z-Meter. Further weight reductions were achieved with the implementation of third generation Putzmeister free-flow hydraulics.
The unit offers enhanced performance with a more robust, lightweight boom design. Pouring is optimized with 5-in. (125mm) pipe that runs the entire length of the five-section Z-Fold boom. Meanwhile, the Ergonic 2.0 Control System is now standard. Unveiled in January 2017, the control system offers a more user-friendly experience with a more intuitive design and improved remote monitoring.
Familiar elements from the previous version will remain the same. The 63Z-Meter retains its main pedestal and rear outrigger design, while the boom shares with its predecessor the same arm length, folding strategy, cylinder and links.
The unit has pump cell options of .16H or .18H LS. It is available immediately.