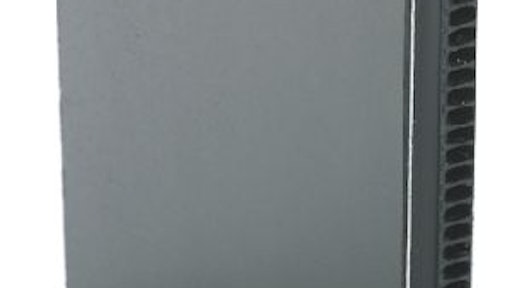 Mid-Size Landscape Block Forms
Create concrete blocks that are heavy enough for most applications and small enough to be moved with a skid steer
Creates four blocks with one pour in one form
Each block is 12 in. high by 24 in. deep by 24 in. wide
Blocks weigh 560 lbs.
Formliners available
Design Pro
Futura Panels
Composite structural concrete forming panels with MCO overlay (no wood)
Waterproof and resistant to the chemicals typically found at the jobsite
Standard 1/2-in.-thick panels are half the weight and as strong as 3/4-in. structurally-rated plywood
Can be cut/sawed and nailed/screwed using typical jobsite tools
LEED compliant and recyclable
Maxam Equipment Inc.
Sonotube Commercial
Form which can withstand full liquid head pressures of up to 20 ft. and 72 hours or more of rainfall
Alternative to steel and fiberglass forms
Designed for buildings, parking garages, stadiums and footings
Standard sizes from 6 to 60 in. in diameter, and in lengths of 12 or 20 ft.
Sonoco
Fast-Tubes Fabric Forms
Form perfect circular columns when filled with concrete
Available in 6-, 8-, 10- and 12-in. diameters
Fabric tab is sandwiched between two 2 x 4s, allowing tube to be positioned and braced
Unaffected by water and sun
Can be cut to any length
Lightweight and compact
Fab-Form
Big W Panel System
Crane-set system designed to stack for tall-wall, high-rise projects
.125-in.-thick face-sheet designed to handle pressures in excess of 1,250 lbs. per sq. ft.
Available in heights up to 8, 9 and 10 ft., and in lengths from 8 to 16 ft.
6 lbs. per sq. ft.
Compatible with Western Forms systems and other systems on the market
Western Forms Inc.
Reusable Batter Board
Allows the user to quickly and accurately establish and set reference guidelines?
Slider adjusts horizontally and locks for accurate reference lines
Setup uses 3/4-in. forming stakes through vertical tube
Locks at desired height
Set includes eight batter board frames, eight slider assemblies and 275 ft. of string
Rousseau Co.
FormBoard
Reusable lumber for concrete formwork and landscaping
30% lighter than solid-sawn lumber
Composed of LVL, a cross-banded laminated veneer lumber core that eliminates knots, twisting and warping
Coated with UV-stabilized polyethylene that prevents cracking, resists moisture and guarantees high re-use
Available in 16-ft. lengths in sizes ranging from 1 in. by 4 in. to 2 in. by 12 in.
EcoForm
Pourform-107
Medium-density overlaid (MDO) Struc 1 panel
Hard, durable surface resists abrasion and moisture
Provides 10 to 15 reuses
Standard sizes include 4 ft. by 8/9/10 ft. in thickness of 5/8, 11/16 or 3/4 in.
Pourform-101, Pourform-HDO and Pourform-pH also available
Ainsworth Engineered
Big Expander
Expands on the spot
Eliminates need to purchase additional filler panels to form box bays, corners, fireplaces or complex foundation elevations
Compatible with all face-sheet connections
Attaches with a pin and wedge or bolt
Designed for the custom-home market
B.E.P. Forming Systems
Arch-Crete Forms
Integrated system that simplifies the process of attaining vertical textured concrete surfaces
Lightweight and easily maintained
Last for more than 1,500 pours
Average weight of 57 lbs.
Architectural Concrete Creations
Split Block Forms
Gives you a deep block design providing a realistic finished look
Made from heavy-duty extruded aluminum
Width 36 in. to 1 in.
Heights up to 120 in.
Compatible to pouring block on one side and smooth on the other
Wall-Ties & Forms Inc.
Plated Trusses
Designed and engineered in a controlled environment to your exact specifications
Feature angled sides for ease of removal
In-house design and support staff available
Universal Forest Products
Plastic Column Forms
Use to form columns, piers, light post bases, fire proofing "I" beams, etc.
Lightweight, reusable, waterproof and stackable
Easy to strip and clean and leave no spiral marks
Available in 12-, 16-, 18-, 20-, 24- and 30-in. diameters
Deslauriers
XTRA-FLEX Radius Forms
Designed to be extremely flexible in order to form extra-tight radii, returns and circles
Standard 10-ft. length (unlapped) will form a 38-in.-diameter circle (19-in. radius) and can be further bent to a radius as small as 6 in.
High-density polyethylene will not absorb water, rot or splinter
Steel stake pockets feature "quick-grip" locking knobs for easy set-up and strip
"No tool" vertical adjustment to the stringline
Steel sleeve eliminates labor-intensive splicing procedures
Metal Forms Corporation
Stone-Crete Formliners
Cast-in-place decorative concrete wall system that duplicates the look of hand laid stone
Urethane rubber forms good for 100+ pours; urethane foam forms good for 50+ pours
Ideal for commercial or residential applications
Available in 10 standard deep relief patterns
Use with Increte color systems for unique look
Increte Systems, Inc.