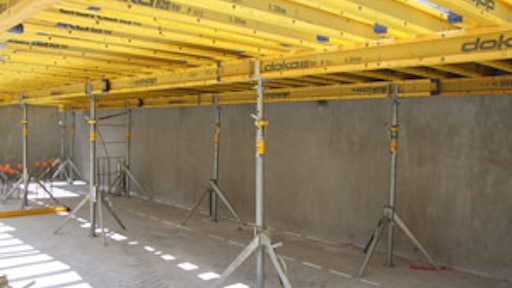 For better or worse, most beach communities develop their distinct personalities early on and can do little to shake them. After all, who could imagine Martha's Vineyard without quaint, historic houses or Miami's South Beach without Art Deco hotels and posh nightclubs? That's what makes Oceanside, California, something of an anomaly. Located near the Marine Corps base at Camp Pendleton, the seaside town has long been little more than a military hideout with limited appeal. But in the past 25 years, Oceanside has reinvented itself with a major redevelopment plan designed to bring high-end hotels, condominiums, storefronts and entertainment options to the town, mirroring its posh and popular neighbors to the north (Orange County) and south (San Diego).
The latest project in this ongoing effort is a project called "400 South The Strand," a luxury eight-unit condominium building located on The Strand, a popular road that runs along the Pacific Ocean. Located directly on a pristine slice of highly sought-after beachfront property, the building features such distinctive details as eight-foot-tall windows that provide stunning ocean views, plus an exterior facade in a custom stone blend that also graces the walls at Laguna Beach's famed Montage Beach Resort. Inside, residents will have access to such amenities as an automated sound and lighting system, professional Viking kitchen appliances and custom fixtures. A private rear entrance, his and hers shower rooms, and an underground parking garage will make getting to the beach (and beyond) a breeze.
To help bring this luxurious vision to life, developer Surterre Properties turned to Residencia, LLC, a general contractor from Dana Point, California. And, in order to achieve the type of high-end finish necessary for the building's 10,000-square-foot post-tensioned concrete parking deck in a compressed time frame, concrete contractor Quintessa Construction relied on Doka's new Dokaflex S floor slab system. The contractor had previously used aluminum frames and beams for forming, but made the switch to Dokaflex when they realized the system requires only one worker for each step and would save considerably on time and labor. Launched in January at the World of Concrete, Dokaflex enables wider spacing of props and beams as well as easier marking on beams. With only five separate components, the one-main system can be assembled from the ground, offering ease-of-assembly and flexibility to form any building or shape. In addition, because Dokaflex can be used with any grade of plywood, the contractor was able to achieve the desired finish for the concrete slab.
Doka personnel were on-site to explain the sequence of each of the system's five components, considerably increasing the productivity of the crew. Closed in on two sides by buildings and backing up to a large hill, the parking deck (which incorporates shotcreted walls) also was constructed using only the Dokaflex system.
When the condominiums at 400 South The Strand are completed in the winter of 2007, they will join a long list of successful projects that have helped reshape the landscape of Oceanside in recent years, transforming it from a seedy, forgotten hamlet into a viable player in the luxury beachfront market.
Companies in this article