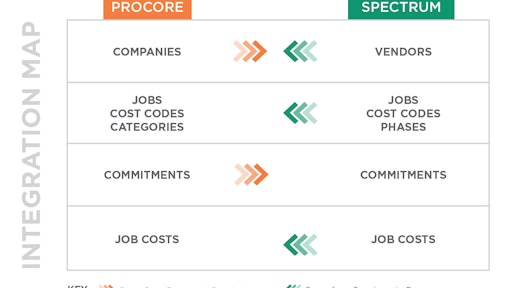 Procore's limited release of QuickBooks and Dexter + Chaney Connectors will provide construction professionals with the freedom to choose when it comes to selecting an accounting solution that fits with the best-in-class construction project management platform.
With the limited release of both the QuickBooks and Dexter + Chaney Connectors, Procore is empowering project teams with the confidence they need to make decisions from the jobsite while removing the need for accounting teams to enter the same set of financial data twice.
The goal is to provide the best customer experience possible. With that in mind, Procore is rolling out access to the QuickBooks Connector and the Dexter + Chaney Connecter on a first come, first serve basis in order to keep up with demand and allocate the appropriate customer support resources to ensure a truly flawless implementation. As new clients are successfully onboarded, the company will continue to implement those on the list in order of request received as efficiently as possible.
QuickBooks Connector — align the office and the field
Procore is aligning project management and accounting by integrating Procore with QuickBooks Pro, Premier and Enterprise. The QuickBooks Connector provides real time access to your financial information, reduces double entry, improves communication between the field and accounting teams, and gives project teams real time accurate financial data to forecast from the field.
"We save anywhere from 8 to 10 hours each week with the QuickBooks Connector, and our project administrators no longer spend all day in the accounting software. They're able to focus on work outside of financials," said Carissa Stephens, Project Administrator, Chancel Builders, Inc.

"The time savings is significant because we were constantly having breaks that required manual research and re-work with our old system. The Procore team really understands their clients and has implemented the Quickbooks integration with the flexibility to meet how the client has set up their Quickbooks platform," said J.Mac Brown, VP of Operations, Advent.
Procore & Dexter + Chaney – 100% cloud-based project management and accounting
Spectrum from Dexter + Chaney provides in-depth accounting and operations functionality. The Dexter + Chaney Connector allows for real time access to financial information from Spectrum while allowing you to maintain accurate, secure, financial data in Procore.
"Our integration with Procore allows us to deliver a single solution that combines the industry's best in class cloud-based Project Management platform with the best in class cloud-based construction ERP system," said Wayne Newitts, Dexter + Chaney Marketing Director. "And because both companies collaborated on a bi-directional integration of data, users will enjoy a seamless experience when working in both systems."
Companies in this article