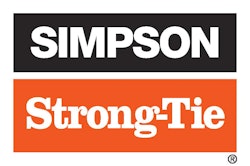 Simpson Strong-Tie will introduce the GCN-MEP gas-actuated concrete nailer, a cordless, portable tool for the mechanical, electrical, and plumbing (MEP) trades, at the World of Concrete. In addition, attendees will be able to download the new Simpson Strong-Tie Adhesive Estimator mobile app.
The easy-to-use and load GCN-MEP gas concrete nailer is designed for attaching mechanical, electrical and plumb fixtures to concrete, concrete block (CMU) and metal deck. As a single-shot tool, it installs pre-assembled accessories for the MEP trades and features a pin that has a .125" diameter shank and a .300" diameter head. The .300"-headed fastener can be shot with the GCN-MEP tool or any common PAT tool. The GCN-MEPMAG (magazine tool) can shoot common gas drywall track pins, including all of the Simpson Strong-Tie GDP series pins. The MEP-MAG magazine can be installed and removed easily with no additional tools. The GCN-MEP nailer will be available in March.
The Adhesive Estimator is the first mobile application from Simpson Strong-Tie and will enable users to quickly estimate adhesive product quantities right from their mobile device. By inputting the size and number of adhesive anchors, the app will calculate the approximate number of adhesive cartridges needed for a project.
For more information and to demo these and other new products from Simpson Strong-Tie, visit booths N1819 and O31428 at the World of Concrete in Las Vegas, January 24-27, 2012, or visit the website www.strongtie.com/anchorsystems.
Companies in this article