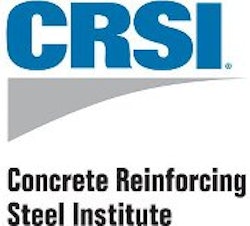 The Concrete Reinforcing Steel Institute (CRSI) has named Matthew L. Brace, Vice President Central Region – CMC Americas, Commercial Metals Company- the new chairman at its 88tt Annual Conference in Washington, D.C.
Brace joined Commercial Metals Company in 2000 as a regional sales representative for the South Carolina mill. Since then, he has worked as the general manager of sales for both the South Carolina and Alabama mills, the vice president of sales for all of the Americas' mills, in marketing for the Americas and in sales for the rebar fabrication division His current duties include central region P&L management for the fabrication, recycling and mill operations.
Prior to joining Commercial Metals, Brace worked in various sales roles for Auburn Steel and Birmingham Steel. He started his career in the metals business in 1992 at Vermillion Iron Works as a furnace operator.
Brace is a graduate of Saint Joseph's College, where he earned a Bachelor of Science in Political Science. In addition, he earned a Master of Business Administration degree from Olivet Nazarene University.
In addition, Scott Stevens of Dimension Fabricators was elected to the Board of Directors. He will serve a two-year term. Stevens was also elected vice-chair.
The CRSI 2012 Board of Directors Officers and Executive Committee members include:
Chairman Mathew Brace, CMC Americas, Seguin, TX
Vice-Chairman Scott Stevens, Dimension Fabricators, Scotia, NY
Secretary/Treasurer Michael Deis, Dayton Superior, Dayton, OH
Past Chairman John P. Simmet, Simcote, St. Paul, MN
James (Pete) L. Diggs, Gerdau, Nashville, TN
Robert J. Stone, Nucor Steel, Charlotte, NC
"Through our diverse representation on the Board, we can more effectively use our resources to represent the industry in a variety of ways," said Robert J. Risser, CRSI president.
Companies in this article