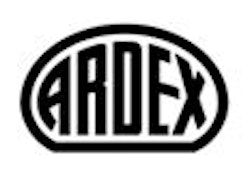 Ardex Americas recently won two National Floor Trends 2012 Readers' Choice Awards at Coverings 2012 in Orlando, Fla. Ardex K 55 MICROTEC Premium High-Flow, Self-Leveling Underlayment and Ardex MC Moisture Control Systems were chosen by readers as favorite products in the Underlayment/Cushion Material and Installation Material categories.
Ardex K 55 MICROTEC Premium High-Flow, Self-Leveling Underlayment is a durable self-leveling underlayment that pours like water. It has the strength of MICROTEC, yet can be installed at just 1/8 inch, making it ideal for thin applications over large areas. It can be used over interior concrete, terrazzo, ceramic tile, quarry tile, epoxy coating systems, and non-soluble adhesive residue on concrete. It can be walked on in just two to three hours, and finished flooring can be installed in just 16 hours. It can be installed from 1/16 to 1 inch neat and can be featheredged to match existing elevations. It can be easily mixed and poured or pumped. Coverage is up to 100 square feet per bag.
Ardex MC Moisture Control Systems are some of the most versatile and reliable in the industry, according to the company. Ardex MRP Moisture Resistant Patch is a moisture-resistant, trowel-gradable and smoothing compound designed to bond readily to concrete. Ardex MC ULTRA suppresses moisture vapor from levels of 98 percent RH to acceptable levels overnight. Ardex MC PLUS reduces moisture vapor from 98 percent to acceptable levels in eight hours and does not require a sand broadcast when Ardex Americas underlayments are installed at 1/4 inch or less. Ardex MC RAPID reduces moisture to acceptable levels from 98 percent in four hours.
"These awards are designed to honor some of the most forward-thinking products in the industry," said Diana Brown, BNP Media group publisher.
Companies in this article