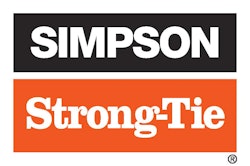 Robert Bosch Power Tool Corp. and Simpson Strong-Tie Company Inc. today signed an agreement to form a strategic alliance that will allow the companies to jointly pursue sales, marketing and product development opportunities in the concrete construction market.
The new sales combination gives the companies' distribution partners and customers' access to the broadest commercial and residential product portfolio in the concrete construction industry. The strategic alliance will give distributors the opportunity to compete effectively and take market share from direct sellers.
"This strategic alliance will leverage both companies' engineering strengths, manufacturing practices and sales expertise to deliver anchoring and fastening solutions that meet building code requirements and improve productivity for installers," said Terry Horan, president and CEO, Bosch Power Tool Corp., North America.
The alliance seeks to bring to market a complete Bosch/Simpson Strong-Tie installation system, including adhesive and mechanical anchors, demolition and rotary hammers and accessories, and to improve efficiency and productivity for customers. The new venture also will provide joint jobsite training to installers and offer distribution partners a variety of sales and marketing benefits.
"The alliance between our two companies will give our distribution partners a better way to compete against direct sellers," said Terry Kingsfather, president, Simpson Strong-Tie. "By combining Bosch's expertise in power tools and accessory systems with the Simpson Strong-Tie focus on providing specified, value-engineered anchoring solutions, we can drive quality business to our partners and provide customers with even better solutions."
Companies in this article