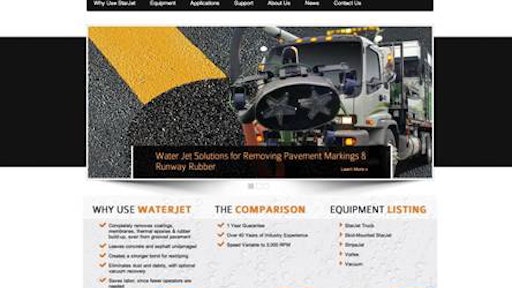 NLB Corp. has introduced a new website devoted to its closed loop StarJet system and related equipment for water jet removal of pavement markings and runway rubber.
The new website is designed to help highway and runway contractors quickly find information about the water jetting process and typical applications, and about the NLB equipment designed for such applications. It features StarJet trucks for long-line projects, the compact StripeJet for smaller jobs, the semi-automated Vortex, and manual accessories, such as hand lances.
Visitors can also find details of NLB's unique pump guarantee, which protects customers against pump parts failure for one year when they buy a StarJet system. The company also offers for purchase an optional five-year guarantee that provides a full set of replacement pump parts to use while NLB factory refurbishes the original parts.
The easy-to-navigate site goes beyond basic product and application information, offering video demonstrations; access to training, parts and service; a troubleshooting guide; a dedicated customer support section; and NLB news. Visitors who need more information about water jetting or NLB can link to the company's main website.
Companies in this article