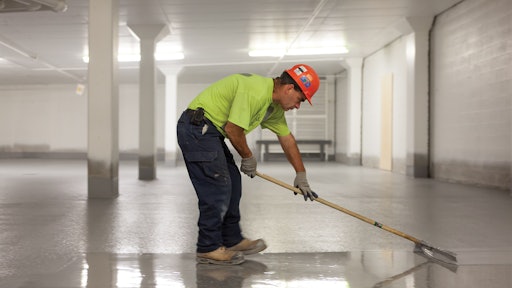 The Mapefloor parking deck system was introduced at the World of Concrete 2014 trade show. The two-component, flexible polyurethane system has been designed to provide an elastomeric waterproofing membrane for heavy pedestrian and vehicular traffic. It may be used in multi-story parking garages and areas with heavy vehicular traffic, as well as on suspended pedestrian walkways and balconies.
"The Mapefloor parking deck system is specially formulated for interior and exterior concrete surfaces that require waterproofing, flexibility, and high resistance to wear and abrasion," said Roger Pratt, Business Manager for MAPEI's Concrete Restoration Systems line. "In parking garages, the decks can see a lot of wear and abrasion, undergo extreme temperature variations, and be subjected to attack from aggressive chemical agents and salt and water intrusion. The Mapefloor parking deck system provides an impermeable, non-slip surface that will resist this wear while protecting the concrete from oil, fuel, and salt intrusion.
"Mapefloor is also flexible enough to allow for above-grade substrate movement and provide some crack-bridging capability to prevent water and salt from penetrating the concrete surface, contributing an added benefit," Pratt continued.
The Mapefloor parking deck system is available in two formats. The standard system is a minimum 40-dry-mil (1-mm) system, excluding aggregate and primer. The heavy-duty system, which is ideal for high-wear areas such as spiraled ramps, turn and drive lanes, and ticket booths, is a minimum 55-dry-mil (1,4-mm) system, also excluding aggregate and primer.
There are four components in each of the systems:
Mapefloor Primer (standard system) and Mapefloor Primer Fast (heavy-duty system), two-component epoxy primers, are used for priming and consolidating the worn concrete surface. Mapefloor PU 400, a two-component polyurethane basecoat, is applied over the primer and acts as a waterproofing membrane.
Mapefloor Finish 415 NA, a two-component, aromatic polyurethane topcoat, is used in areas of parking garages not exposed to the sun.
Mapefloor Finish 450, a two-component, aliphatic polyurethane topcoat, provides UV protection in areas of garages that are constantly exposed to the sun.
Parking garages is a rapidly growing segment of the concrete restoration sector, Pratt said. "As new buildings are added in city environments, a parking garage must be added adjacent to or beneath these buildings. Existing garages that were built in the '70s and '80s have lost their protective coatings through wear and need replacement," he added. "New garages demand this coating to extend the service life of these concrete decks. The Mapefloor parking deck system is the most effective answer to the protective coating needs of these concrete floors."