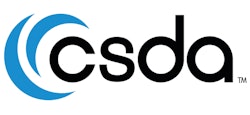 An eye-opening keynote presentation and a special aeronautical-themed ceremony in recognition of an influential industry veteran are just two reasons why CSDA's 42nd Annual Convention and Tech Fair was an amazing success.
Almost 200 people grabbed their cowboy hats and headed west to attend CSDA's flagship event, held March 13-15 at The Westin La Paloma Resort in Tucson, Ariz. The main focus of this year's convention was personal accountability, highlighted in David Levin's keynote presentation The Question Behind the Question. Levin not only explained how a lack of personal accountability can really hurt a business, but also that taking ownership of issues can lead to very positive outcomes.
"I got quite a few takeaways from the keynote," says Dan Foley of Cobra Concrete Cutting Services Co. in Arlington Heights, Ill. "Some of the presenter's points on personal accountability really hit close to home. I can now take what I learned and use them in the field, instilling his 'believe or leave' mantra in my team."
Also during the three-day event, CSDA honored one of its Past Presidents and long-standing supporters for his outstanding contribution to the association. Tom Stowell became the sixth recipient of the CSDA Lifetime Achievement Award, which was presented to him during a special ceremony at the Pima Air and Space Museum in front of a UH-1 Huey — the helicopter he piloted during the Vietnam War. Tom has been involved in the industry for over 40 years and has been influential in the growth of the association. Current CSDA President Judith O'Day and Executive Director Patrick O'Brien presented Stowell with the award.
Highlights of the 12 business sessions held during the 2014 Convention included the presentations about small businesses affected by the Affordable Care Act, developing a standard for the polishing industry and underwater cutting technologies. In addition, two roundtables entitled Recruiting and Retaining Qualified Employees and The Benefits of Automating Your Processes were extremely well attended and gave key decision-makers a chance to share knowledge and discuss ideas with their peers.
Aside from insightful business sessions, CSDA scheduled several networking opportunities, social events and a Tech Fair in Tucson. Attendees had the chance to visit 24 exhibitors and talk with manufacturers in an intimate setting, allowing for in-depth discussions about products and services.
"I am continually faced with the challenge of finding improved techniques for completing projects on time and within budget. Meeting with this network of worldwide contractors and equipment suppliers will no doubt be an essential component in the success of my business," says first-time convention attendee and new CSDA member Sam Skierski of Advanta Asphalt in Live Oak, Fla.
For more information, visit www.csda.org, call the CSDA office at 727-577-5004 or email [email protected].
Companies in this article