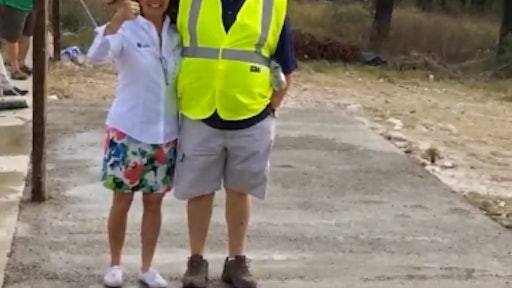 At a recent customer workshop, Dallas based, GoGreen Concrete launched its new enhanced permeable concrete additive, EcoPerm. To demonstrate permeability, 200 gallons of water was discharged 19 hours after the concrete was poured and for good measure an 80,000 lb. truck was driven over the slab to illustrate strength.
"Our new enhanced additive can provide the flexural 822 psi (58kg/cm2) and compression 6,575 psi (462Kg/cm2) strengths that allows the benefits of permeable concrete to be incorporated into road and highway construction and unlike any other pervious admixture it is applied as a singular additive. Furthermore zero slump, increased manageability and workability for up to 90 minutes all contribute in lowering overall cost," says CEO Laura Solis.
For product inquiries contact Laura Solis at (214) 514-0505 or by email laurasolis@gogreenconcrete.com.