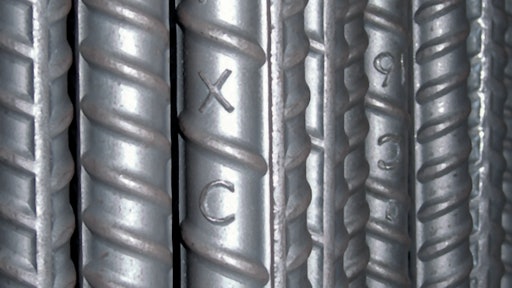 The California Department of Transportation (Caltrans) has instituted a pilot program expanding the use of ASTM A1035 corrosion-resistant reinforcing steel in place of green epoxy-coated rebar in California bridges.
Caltrans has issued Non-Standard Special Provision (NSSP) 52-2 02B_N02-25-14, which allows A1035 rebar to be used in retaining walls, concrete barriers, wingwalls, approach slabs, abutment stems and girders. This expands the use of ASTM A1035 beyond the already approved pavement use as dowel bars and deformed bars for continuous reinforced concrete under Section 40 of the California Standard Specifications. 
"California, through the Caltrans pilot program, joins the many states across the U.S. and provinces of Canada that already accept, use and benefit from the enhanced corrosion resistance of MMFX2 A1035 rebar," said Michael W. Pompay, president of MMFX Steel Corporation of America, a seller of products meeting the ASTM specification.
MMFX2 rebar is proven to be five times more corrosion-resistant than conventional carbon steel, providing over 100-year service life and the lowest life-cycle costs compared to other concrete reinforcing products. The concrete reinforcing steel determines the life expectancy of the structure. Using better performing rebar in construction reduces the need for repair, providing substantial cost savings over the extended life of the bridge, including less traffic disruption.