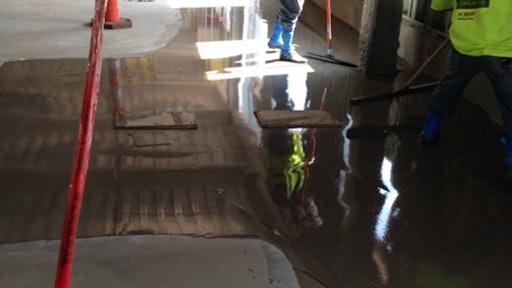 Nominated for the Most Innovative Product award at 2015's World of Concrete, Go-Early Technology is built on the AC•Tech 2170 Fast-Curing, Zero VOC, Vapor Reduction System that has long been recognized for high-performance and consistent results within both the construction and flooring sectors. Now, this same German-engineered and specially manufactured epoxy resin has been formally tested as a Type 1, Class C Liquid Membrane-Forming Curing Compound in accordance with ASTM C1315-11 testing standards.
Video: AC Tech Go-Early Technology Fast Tracks the Concrete Curing Process


Applied at 12 mils over a light broom finish 24 to 72 hours after initial concrete set, Go-Early Technology is a One-Product, One-Coat, One-System total solution for concrete curing, slab protection and vapor reduction in Division 3.

When correctly applied by concrete industry specialists, Go-Early Technology may be even better termed as a "Most Innovative Process" in which on-slab construction activities can start early and finish early.

Attendees of the World of Concrete 2015 expo are invited to visit "the Substrate Sleuths at Booth S-13239 and explore how Go-Early Technology can help construction and design-build professionals do what they do best … innovate.

AC•Tech provides advanced, performance-based solutions to complex concrete coating issues and offers specialized products for curing, moisture mitigation and vapor reduction, alkalinity control, and concrete slab remediation from oil contamination. AC•Tech can also offer custom designed resin-based solutions and products for just about any need through its manufacturing partners in Germany and India. The advanced systems of AC•Tech have been specifically engineered to comply with LEED Building Standards and all California indoor air quality standards. Staffed by seasoned professionals with over a century of combined industry experience, AC•Tech serves and supports architects, engineers, contractors and business owners in the U.S. and abroad.

For more information, contact: AC • Tech - www.actechperforms.com, via phone at (757) 855-5100, or via e-mail at info@actechperforms.com.