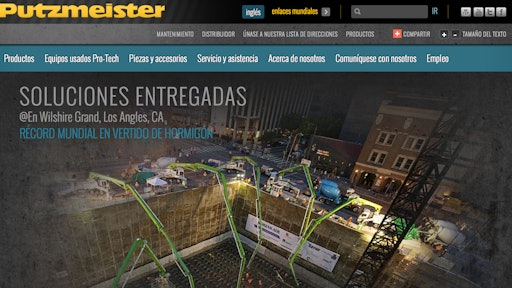 Putzmeister America, Inc. has unveiled its first ever Spanish website, www.PutzmeisterAmerica.com/es/. The new site offers extensive content that will provide Spanish-language website visitors and customers with information on Putzmeister's latest developments, products and services.
Similar to the English version, the Spanish site offers a modern design with easy-to-navigate functionality and content-rich materials. The new site features original reporting and translated stories from the English-language edition, and includes similar sections – Products, Parts and Accessories, Service and Support, About Us, and Contact Us.
"We have a large Spanish-speaking audience, and in order to best cater to their needs, it was essential to create a Spanish-language resource for them," says Bill Dwyer, vice president of sales and marketing for Putzmeister. "The implementation of this site demonstrates Putzmeister's commitment to continuously providing the most up-to-date information on our products and developments to our diverse audience, specifically our Spanish-speaking clients and customers."
The Spanish site emmulates the English version as it also aims to enhance the user experience with 360-degree animations of Putzmeister boom pumps, expanded technical information, a new Putzmeiser Authorized service locator, and more.
Visit the new Spanish-language Putzmeister website at www.PutzmeisterAmerica.com/es/.
Companies in this article