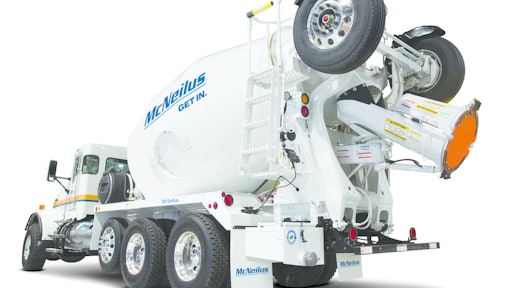 McNeilus Truck & Manufacturing, Inc., an Oshkosh Corporation company, will be showcasing its industry-leading support at World of Concrete (WOC) 2016, February 2-5, 2016, at the Las Vegas Convention Center in Las Vegas, Nevada. In addition to displaying its range of product options and service and support network, McNeilus is featuring the Oshkosh S-Series Front Discharge Mixer at booth #C6545.
Ten additional vehicles will be featured in partner booths throughout the trade show, including an 11-cubic-yard Bridgemaster mixer donated by McNeilus for the Concrete Industry Management (CIM) program's 11th annual auction. The CIM program supports world-class academic programs and educational initiatives for the concrete industry.
"At this year's show, we are excited to share how innovations in mixer design at McNeilus set the bar for industry standards," says Brad Nelson, president, McNeilus Truck & Manufacturing, Inc., and Oshkosh Corporation's Commercial Segment. "Whether it's the chassis, Command Center Controls, the drum or anything in between – our configurations meet the requirements of ready-mix producers around the globe. And when you buy a McNeilus, it comes equipped with a level of service and support unparalleled in the industry."
Show attendees will get a firsthand look at the options and product range McNeilus offers. The McNeilus Standard, Bridgemaster and innovative SMS Sliding Mixer System, as well as the Oshkosh S-Series Front Discharge mixer are household names with ready-mix producers. McNeilus customers have the ability to choose from several options and configurations, including NGEN brand compressed natural gas options to meet the needs of any fleet vehicle. Innovations in drums, controls, lightweight materials, technology, and operator assurance result in the most replicated trucks in the industry. 
The booth also showcases McNeilus' dedicated, factory-direct sales and support network backed by nearly 30 strategically located North American branches and service centers. Support is available before, during and after the sale – serving customers both locally and nationally. McNeilus customers can take advantage of flexible in-house financing options, trade-in and used equipment opportunities, along with a national service team that provides on-site product and service training.
The Street Smart Parts display at the booth highlights the 24/7/365 availability of quality OEM parts and parts for any make or model. Street Smart Service is also available through the Technical Support Center via phone, and certified technicians are on-call in local service centers to repair or refurbish any make or model. The Street Smart by McNeilus brand offers solution-based programs, such as Street Smart Vision and Street Smart Contamination Control, to help protect and extend the service life of a fleet.
A number of chassis manufacturers are including McNeilus mixers as a part of their displays at WOC. International and Kenworth lead the way with three mixers, while Freightliner, Peterbilt, Mack and Volvo will each feature a McNeilus mixer.
The 2016 McNeilus Bridgemaster donated for the CIM auction includes an 11-cubic-yard M80 paver drum with a 46-inch opening, 3/16-inch shell and 1/4-inch AR steel fins; aluminum fenders; remote roller lubrication; SAT air lift charge hopper; slump meter; night pour lights; and 150-gallon aluminum cross mount water tank. McNeilus is also equipping the mixer with its Command Center EP touch drum controls. The 11th annual CIM auction will be held Wednesday, February 3 in the North Hall Room N262 of the Las Vegas Convention Center.