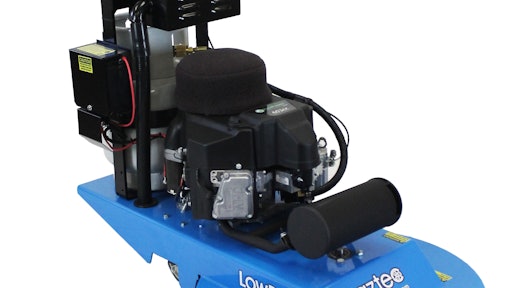 Aztec celebrates seven straight years as the cleanest 603cc engine in the industry. Kawasaki Motors Corporation introduced the gasoline powered 603cc twin valve engine into the commercial floor equipment market in 2010 to be converted to Liquid Propane Gas (LPG). Because gasoline cannot be used as an indoor fuel source, each equipment manufacturer must:
Create their own LPG carburation system for the engine.
Have that system independently tested by a third party.
Register the system and resulting emission measurements with the EPA.
Post a large financial performance bond with EPA promising not to change their configuration.
Aztec welcomed the introduction of this new, very powerful Kawasaki engine and immediately went to work on engineering the cleanest, most robust LPG configuration possible. Aztec's resulting configuration, with 28 grams Carbon Monoxide (CO) per kilowatt hour and 14.1 horsepower, remains the best in the industry. This EPA certification demonstrates why Aztec is one of the top LPG commercial floor care equipment manufacturers in the world.
HP @ EPA Test

Manufacturer

Engine

Engine Family

CO Cert Level

Electronic Control

13.6

Aztec Products Inc.

Kawasaki 603cc

FAPIS.6032NS

15

Y

14.1

Aztec Products Inc.

Kawasaki 603cc

FAPIS.6032NA

28

N

9.4

Amano Pioneer Eclipse Corporation

Kawasaki 603cc

F2PXS.6032K1

34

N

14.6

BETCO Corporation

Kawasaki 603cc

FPBXS.6032AB

64

N

14.9

Nilfisk Advance

Kawasaki 603cc

FALTS06032WC

88

N

14.4

LEHR LLC

Kawasaki 603cc

FLHRS.6032EM

266

N

14.4

ONYX ENVIRONMENTAL SOLUTIONS

Kawasaki 603cc

FNYXS.6032EM

266

N

extracted from: https://www3.epa.gov/otaq/certdata.htm#smallsi
Based on the 2016 EPA certification rollovers posted so far, it is clear that Aztec's 28g of CO/hour will remain the cleanest – 20 percent cleaner emissions than their next closest competitor, with a 50 percent higher horsepower. Others competitors with approximately the same horsepower certifications have two times, three times or even nine times higher CO emission levels. Even more incredibly, when the standard Aztec system is enhanced with the NEES Electronic Fuel Controller, the CO emissions can be dropped by another 47 percent with only a 3.5 percent drop in horsepower, from 14.1hp to 13.6hp.
Whit Beverly, President of Aztec Products, says, "Businesses use many techniques to try to get to the top of their industry. Having the lowest price or flashy sales gimmicks are common approaches. With CO being a byproduct of all internal combustion engines, Aztec's approach has always been to have the safest, toughest, most productive floor maintenance equipment available. Our seventh straight year as cleanest engine certification in the industry is testament to that commitment."