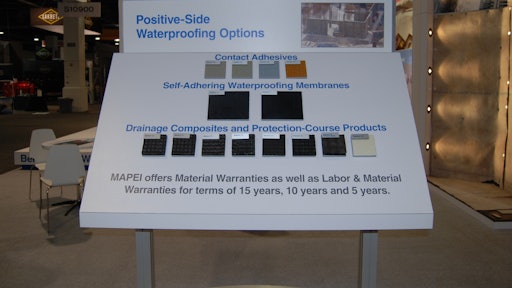 MAPEI Corporation introduced its Below-Grade Waterproofing product line to the North American construction market at the 2016 World of Concrete show. Among the below-grade waterproofing systems introduced at the show were Mapeproof sodium bentonite geotextile waterproofing membranes.
Mapeproof membranes are constructed using a layer of woven and nonwoven, puncture- and tear-resistant polypropylene fabrics. Encased within these fabrics is high-swelling, self-sealing sodium bentonite.
Mapeproof membranes are offered in a standard-grade version (Mapeproof HW) and an alternate grade designed specifically for sites where contaminated or salt groundwater is present (Mapeproof SW).
The other below-grade waterproofing products introduced at the show were Mapethene self-adhering, rubberized-asphalt sheet waterproofing membranes.
Mapethene membranes are constructed of a 4-mil-thick, impact-resistant, cross-laminated, high-density polyethylene (HPDE) film laminated onto a proprietary 56-mil-thick rubberized-asphalt compound.
Mapethene membranes are offered in both high-temperature (Mapethene HT) and low-temperature (Mapethene LT) variants.
Supporting these waterproofing products is a complete line of detailing and accessories, including:
Mapedrain – A product group that includes seven three-dimensional drainage composites, each engineered for specific site drainage requirements.
Mapebond – A product group that includes four contact adhesives, which meet the varied site conditions and the various VOC regulations in place at different locations.
Request More Information
Fill out the form below to request more information about
MAPEI Introduces Mapeproof and Mapethene Below-Grade Waterproofing Systems