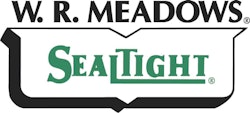 PRECON is used as a pre-applied membrane in vertical applications where access to the positive side is limited. The membrane can also be used for horizontal applications for underslab waterproofing and vaporproofing. It is a composite sheet membrane comprised of a non-woven fabric, elastomeric membrane, and W. R. MEADOWS' exclusive, patented plasmatic core.
PRECON's fabric bonds tenaciously to poured concrete walls to create solid waterproofing protection.
Features a greater seal to stop water in its tracks.
A low temperature version is also available.
Request More Information
Fill out the form below to request more information about
PRECON by W. R. MEADOWS