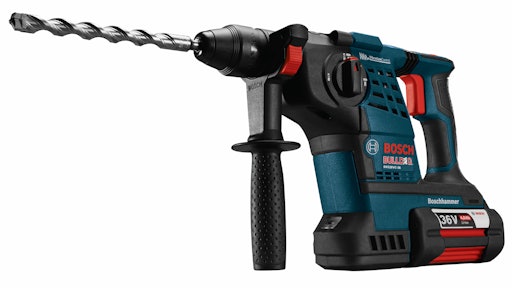 All rotary hammers are not created equal, and none offer the one/two punch of 36V power combined with battery run time, user comfort and innovative features that make the Bosch RH328VC-36 Bulldog 36V 1-1/8" SDS-plus Rotary Hammer a standout. The Bosch RH328VC-36 Bulldog provides maximum productivity with 2.4 ft/lbs of impact energy for fast, consistent drilling and chiseling in concrete. The vibration-dampened handle provides maximum comfort working all day, but it's the KickBack Control that separates the RH328VC-36 from the pack. KickBack Control is a sensor-based technology that shuts the tool off should the bit get into a bind situation.
Electronic Precision Control (EPC), which provides users precise drilling thanks to the advantage of 70 percent power soft-start.
The hammer's multi-function selector includes three operation modes: rotary hammer, rotation only and hammer only.
The Bosch 36V system provides the highest available all-around drilling speed and battery run time.
The Bosch 36V BAT838 4.0 Ah battery provides added power to meet stringent jobsite requirements in concrete and delivers all-day run time.
The powerful four-pole motor is lightweight and compact for a cordless hammer, but is optimized for large-tool performance.
Includes variable-speed trigger with reversing, which means accurate bit starting as well as another option for removing fasteners or bound bits.
Vario-Lock Positioning allows the user to rotate and lock a chisel into 40 different positions.
An LED light is included for drilling in reduced-light environments.
Typical applications include drilling in concrete for setting anchors for the commercial mechanical, electrical and plumbing trades, drilling in concrete for setting forms/rebar doweling for concrete construction, drilling/chiseling in brick/masonry materials and through-hole drilling in foundation walls for running small-diameter pipe for electrical/plumbing. 
Request More Information
Fill out the form below to request more information about
Bosch RH328VC-36 Bulldog 36V 1-1/8" SDS-plus Rotary Hammer