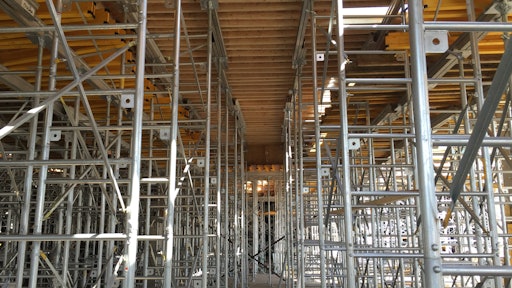 ULMA Form Works, Inc., a manufacturer and distributor of concrete forming and shoring equipment, has announced the introduction of a new and versatile 20,000 pound per frame shoring system called MEGAFRAME. The MEGAFRAME System is a 10,000 pound per leg galvanized steel frame handset shoring system. MEGAFRAME has been designed to work most efficiently on a great variety of construction projects found in North America.
The frames are available in two widths, 2 ft ft- and 4 ft., and three heights, 4-, 5- and 6-ft.
Screw legs have 20 inches of adjustment and cross braces are offered in a number of lengths to shore almost any kind of slab formwork geometry.
The frames have tie-off plates to promote safety and jet locks to increase productivity.
MEGAFRAME is ideal for use on projects where:
There are high-floor or high shoring height applications such as in building lobbies, mechanical floors, water storage tanks and bridges.
Irregular-shaped areas where grid shoring systems are not practical.
Variable shoring heights with drop beams, mezzanine levels and column capitals.
Request More Information
Fill out the form below to request more information about
MEGAFRAME, A New Steel Frame Shoring System ULMA Form Works Inc.