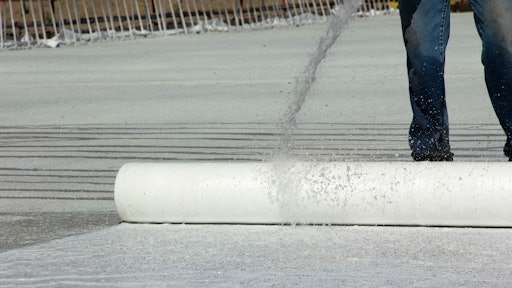 ReliableCure SOG and ReliableCure VAB are Single-Use Moisture Retaining Covers, for Slab-On-Grade  and Vertical and Bridge Deck applications. The covers feature a non-woven engineered absorbent material made of synthetic fibers and super-absorbent polymers laminated to white opaque poly sheeting for maximum moisture retention.
Weighing only 55 lbs./roll, ReliableCure SOG, exceeds ASTM C-171-03 and ASTM C-171-97a and has the ability to absorb more than 49 gal. of water per 1,600 sq. ft.
ReliableCure VAB, also meets or exceeds AASHTO M-171-00 and has the superior ability to absorb over 49 gal. of water per 1,200 sq. ft.  
Request More Information
Fill out the form below to request more information about
ReliableCure SOG and ReliableCure VAB Single-Use Moisture Retaining Covers