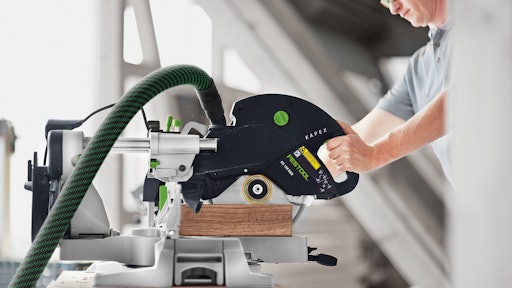 The KS 120 Kapex Miter Saw is perfect for the workshop or the jobsite, with precision-boosting features to ensure fine cuts every time.
Adjustable dual-line lasers deliver perfect indication of cut line for fast stock placement. Once aligned, the miter lock and bevel lock features make certain that each movement will be exact. These features are complemented by the KS 120 rail-forward design which is set wide apart to reduce head play and increase precision for smooth, exact cuts.
The 1,600 Watt direct drive motor that powers the Kapex ensures precise transfer energy to the blade for constant speeds during cuts and flawless exactness. When power is cut-off, users can protect their investment with built-in storage for the power cord and arbor tool, providing an alternative to simply wrapping the cord around the saw.
47 lbs.
Locking head and two handles for center-of-gravity ergonomics
Can cut miters from 50 (left) to 60 degrees (right)
Oversized scales allow for easy and accurate adjustments for both miters and bevels
FastFix blade change system allows blades to be switched with one hand
Cupped steel arbor nut prevents over-torqueing to the saw and blade
Request More Information
Fill out the form below to request more information about
Festool KS 120 Kapex Miter Saw