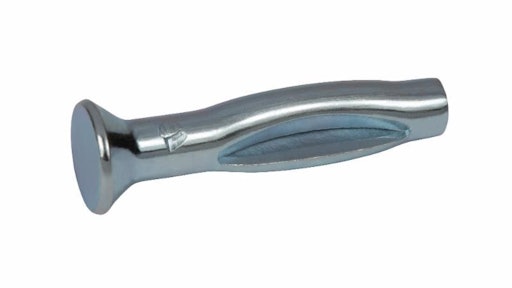 Concrete Fastening Systems
Split drive anchors are ideal for use in solid concrete. They are made with either a round head or a flat countersunk head. The flat head split drive anchors are used in applications in which wood is fastened to concrete; the round head split drive anchors are best suited for applications in which the anchor head will sit above the surface of the item being attached.
"The CONFAST split drive anchor brand offers a wide range of lengths to assist in selecting the most effective fastener for each specific application," says Bob Carlisle, president of Concrete Fastening Systems. "We are excited to offer the CONFAST split anchor drive in both head styles and in every length."
Features:
Tamper proof: Anchor cannot be removed, which provides security for item being attached
Zinc plated: Provides rust resistance for dry applications
For concrete only: Quick, easy, strong fastening into solid concrete
No special tools needed: Simply drill the hole drive with a hammer
One diameter: Provides an uncomplicated choice
Wide range of lengths: Most effective fastener can be chosen for each specific application
Request More Information
Fill out the form below to request more information about
Concrete Fastening Systems Introduces Confast Split Drive Anchors