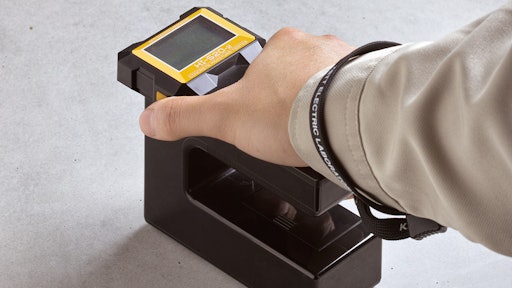 Kett
Kett's HI520-2 analyzer provides instant moisture measurement of drywall (gypsum board), concrete, mortar and other dense solids.  The HI520-2 is designed for use in field (in-situ), laboratory, near-line process QA/QC applications where quick, accurate determination of moisture content is required.
This simple-to-use device allows users to measure the moisture content of individual dense samples. Tests are completed without sample preparation. The HI520-2 is factorycalibrated for concrete, lightweight concrete, gypsum (drywall) board, mortar, and calcium silicate board (CSB). To measure a sample, the user selects the calibration, places the instrument on the surface and the moisture value is instantly displayed on the large display.
In addition to factory calibrations, the HI520-2 allows for seven user calibrations and provides two "raw" measurement modes, allowing samples of almost any dense material to be quickly and easily compared. Up to 1000 measurements can be stored and output, with date and time, via optional software. Automatic temperature compensation improves accuracy and upper alarm limits make it simple for a user to quickly identify and sort out of limit samples or locations.
Request More Information
Fill out the form below to request more information about
The HI520-2 Instant Handheld Moisture Meter for Drywall, Concrete, and Mortar