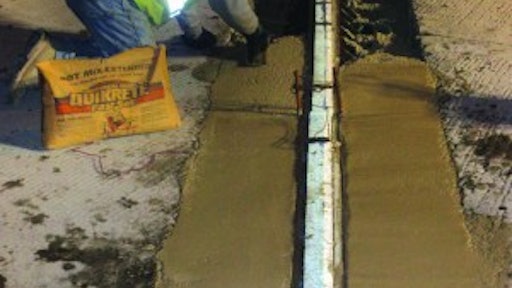 Keeping closures to a minimum
The I-270 beltway is a vital thoroughfare for the city of Denver, accommodating more than 73,000 cars per day, according to the Colorado Department of Transportation (CDOT). A combination of heavy truck traffic, Colorado's extreme freeze/thaw cycle and subsequent use of deicing agents make the need for structural bridge deck repairs critical for keeping the lives of Denver residents who rely on this stretch of interstate unimpeded.
In February 2009, CDOT and Denver-based ABCO Construction started a two-phase repair project to four bridge decks along I-270 - focusing on a full-depth repair and replacement of bridge deck expansion joints. To assure disruption to traffic was kept at a minimum, crews used Quikrete FastSet DOT Mix - Extended for both phases of the project.
Achieving an initial 3,000 psi level in one and a half hours, FastSet DOT Mix - Extended allows work crews to complete the needed repairs and have traffic re-opened in approximately one hour. To further limit their affects on commuter traffic, work was conducted in the evenings until completion in June 2009. Phase one repairs used 3,500 total 80-pound bags while an additional 3,000 total 80-pound bags were needed for phase two. The mix reaches 4,500 psi in just three hours and 10,000 psi in 28 days.
By needing only to mix water on site, crews could make consistent repairs and reduce the amount of preparation time needed. To help combat the freeze/thaw cycle, the product is air entrained and contains an integral corrosion inhibitor to protect rebar and prevent oxidation during repairs.
"The work entailed stripping the asphalt 3 to 4 inches down then repairing the damaged road or elevations using the mix. In addition, all expansion joints across the highway, 12 total, were replaced," says Dale Nehls, Quikrete Construction Products sales representative. "Bridge expansion joints are particularly susceptible to deterioration over time thanks to weight transfer as large trucks and passenger vehicles cross the bridge decks. Throw in the winter conditions here, and these expansion joints need routine maintenance."
Full-depth repair, reaching greater than 4 inches past the rebar, and partial depth repairs were utilized for repairs reaching approximately 1½ inches into the road surface. Once the old material was removed, crews prepped the surface area for pouring then applied the mix into the existing joint locations - smoothing the surface for curing as the mix set.
Barrier wall update
The state of Ohio has a policy to update barrier walls when a rigid overlay is placed on a bridge. The policy is in place until all old barriers are brought up to current crash test requirements. Ohio contractor Shelly & Sands, secured to perform these repairs on 16 bridges, approached Minnich Manufacturing with a unique drill specification. Minnich looked at the specifications and made several drill unit recommendations. Shelly & Sands purchased a three gang vertical drill unit (A-3V-SD) for its project on US-52 near Ironton, Ohio.
The US-52 project converts old aluminum tube railing to a single face concrete parapet shape that meets current specifications. Shelly & Sands removed the aluminum tube railing, drilled holes into the top of the walls, installed rebar, and slip-formed with a Gomaco paver the new face over the existing wall.
Minnich designed a special pneumatic drill unit capable of drilling three holes at one time. The drill unit is set on top of the parapet wall to drill vertically into the top of the wall. The operator drills the set of holes and uses the self-propel feature to travel to the next hole location. The drill unit was faster and easier than the alternative would have been - to hand drill the holes using an electric drill or pneumatic hand drill.
While on the job, the A-3V-SD drill unit was timed at 40 seconds to drill three 7/8-inch by 12-inch-deep holes and reposition to next set.
Combatting bridge degradation
Corrosion of reinforcing steel is a common cause of bridge degradation. The Grove Isle Bridge, which connects a private island in Biscayne Bay to the mainland near Coconut Grove, Fla., suffered from this type of damage. The Grove Island Association hired Fibrwrap Construction, Inc. to repair the bridge using its Tyfo Fibrwrap advanced composite systems for restoration and strengthening. As part of its restoration plan, Fibrwrap Construction used MAPEI concrete restoration products to further strengthen and stabilize the bridge.
The process began with workers removing all delaminated concrete sections from the underside of the bridge slab and pressure washing the exposed concrete areas with water blasts up to 4,000 psi to reach solid concrete. Fibrwrap Construction then installed Tyfo Fibrwrap, a high-strength, fiber-reinforced polymer product, to the bridge's columns, beams and slabs.
Fibrwrap Construction used several MAPEI concrete restoration products throughout the repair process. After cleaning all steel reinforcement bars, crews coated them with Mapefer 1K, an anti-corrosion and bonding mortar. Fibrwrap's crews then formed up the underside areas of the bridge and pumped in Planigrout 712, a non-shrinking cementitious construction grout that contains a corrosion inhibitor and silica fume. Planitop XS was hand applied to repair smaller areas. Planitop FD, a pumpable, full-depth repair mortar ideal for deep repairs that offers a rapid return to service, was applied on the upper sections of the bridge where the sidewalk curbs met the traffic surface.
Once the repair work was complete, the concrete bridge surfaces that were not traffic-bearing were cleaned and waterproofed with Mapelastic cementitious liquid waterproofing membrane, which protects concrete from chemical attack by de-icing salts, sulfates, chlorides and carbon dioxide. This product is designed for application on new or repaired concrete structures, as well as any cementitious surface subject to vibrations and subsequent cracking.
A fast track overlay
Swank Associated Companies, Inc., New Kensington, Pa., performs roadway and bridge repair and maintenance work and is a leader in bridge rehabilitation. Tackling dozens of bridge deck placements annually, its system for bridge overlays is well honed, working with affiliated companies that perform the hydrodemolition of the bridge deck and make the latex modified concrete (LMC) for the overlay. The company also relies on Terex Bid-Well automatic roller pavers from Terex Roadbuilding, owning multiple 3600 bridge and 5000 roadway pavers and older 3200 and 2500 bridge pavers.
For years, the trend in road and bridge rehabilitation has been to complete the repairs during "non-peak" hours. More and more work is taking place at night and over the weekends to reduce construction related congestion on busy roadways and bridges. Strict lane closure time periods are written into contracts with severe disincentives for work that goes beyond the allotted time.
A recent Swank Construction bridge overlay project on the Interstate 376 Parkway Bridge in Pittsburgh was a prime example of working under a tight deadline. The bridge was closed to traffic at 8 p.m. Friday night for a LMC overlay and had to be reopened by 5 a.m. on Monday morning. Not adhering to this time line meant a $30,000 per-hour disincentive.
Swank Construction's entire overlay process - milling, demolition, washing and paving - for the 1,100-foot-long bridge decks had to be completed in less than three days. "We did about three weeks worth of work in a weekend," says Randy Solar, construction superintendent for Swank Associated Companies. There was no room for error.
Swank Construction's process began with milling the existing overlay plus a small portion of the bridge deck. Following closely behind, a hydrodemolition unit then combed the deck with high water pressure between 12,000 to 15,000 psi. "The hydro unit only removes the bad concrete and leaves the good," mentions Solar.
Next, the loose concrete and water was vacuumed away as crews prepped for the final deck wash. After an 8,000 psi power washing, the uneven deck surface was ready for the overlay. "The latex modified concrete bonds to everything, but it does not like heat or wind, so we try to keep it moist and cool," explains Solar.
With time being of the essence, the contractor selected a Rapid Set Mix overlay, which cures to 3,000 psi in three hours. After deck grooving, removing paving equipment and final vacuuming of the bridge deck, the bridge can quickly be opened to traffic, which was the perfect fit for this weekend project.
Consisting of a ¼-inch fractured aggregate, the Rapid Set Mix was placed in front of the Bid-Well 3600 paver. With the concrete's quick cure time, the paving process has to remain continuous, so it can be completed prior to setting.
Fully adjustable, dual 42-inch-long augers metered the LMC in front of the paver's Rota-Vibe system. The two 111/2-inch-long rollers delivered up to 5,000 vpm to reconsolidate the top layer of concrete.
Swank Construction's crew used the optional Terex Bid-Well fogging system on the overlay project. The system's nozzles atomize water to create a true light fog at a flow rate of 1 to 4 gallons per hour. Even with the tight time frame, Swank Construction was able to finish the project on schedule. The biggest benefit of all, however, is the fact that a LMC overlay is not just a quick fix. The surface wears like iron and should last from 25 to 35 years.
Companies in this article