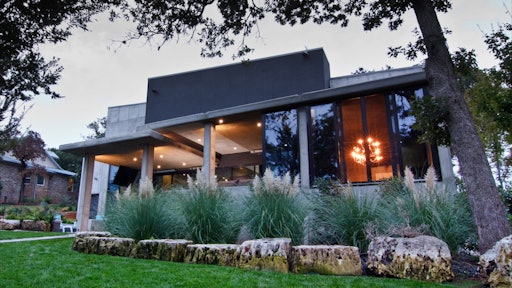 Receiving the top recognition for above grade concrete home in the 2013 Concrete Foundations Association (CFA) Project of the Year awards is a private residence on Lake Hiawasee in Edmond, Oklahoma, by Basement Contractors, also of Edmond, Oklahoma. The home is a 3,758-square-foot, sophisticated architectural and construction challenge that offers many new perspectives on a cast-in-place concrete residence.
The challenges of this project were many, including the tops of all walls sloping from 24 to 32 feet. Two structural decks, a landing for a staircase and an internal stair support wall with embedded steel were additional challenging concrete features. The owner asked that all electrical conduit be placed in the concrete walls. Despite the heights of the walls, the team delivered the challenge keeping all interior wall surfaces clean and crisply modern.
The walls were also built as insulated sandwich walls. This method of wall construction places high-performance insulation between two concrete layers during the single monolithic pour. It further complicated the forming, requiring the electrical boxes to be pushed back into the foam to fit within the concrete layer. The contractor used a non-stop scaffolding system due to the height of the walls as it permitted a working height of up to 40 feet, if needed. An 8-foot walkway was created all the way around the house with the scaffolding.
Additional features for the concrete structure included footings that stepped three times with a 6-foot step height at each location. The house also features cast-in-place benches around a cast fire pit with oblique angles in all directions; cast-in-place display for art work bed; structural concrete decks; and structural concrete headers. The stair landing is also cast-in-place with cantilevered steel treads.
Mike Hancock, president for Basement Contractors, felt this was one of the most challenging concrete homes he has produced. "I think the real success for us in this home was in our ability to engineer the structure as well as build it," states Mike. "While we are involved in a surprising number of homes with basements in a state where few would believe basements possible, we also have found that many of our customers see the advantages of the above-grade concrete home for durability and security. It has become one of our distinguishing services in the market."