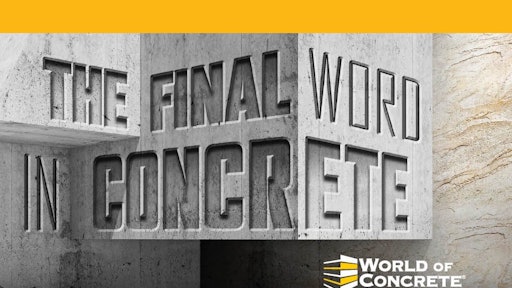 At World of Concrete 2020, contractors will be able to find the products, resources and valuable information necessary to strengthen their concrete construction business. This is the commercial construction industry's largest international event for concrete and masonry professionals across the globe.
More than 60,000 industry professionals from all around the world, representing all segments of the construction industry attend this event each year to gain leading industry knowledge. The World of Concrete education program features industry experts that cover the latest technology, technical applications, strategies for more efficient operations and trends to increase profits. With 170+ seminars, hands-on training, interactive workshops, certification programs and targeted industry training sessions, attendees will be given the education they need to succeed and define theirplace in the industry.
Attendees can also visit 1,500 exhibiting companies over the 700,000 square feet of indoor and outdoor exhibit space at the Las Vegas Convention Center. Original equipment manufacturers from around the world and exclusive U.S. distributors of equipment, tools, products and services for the commercial construction, concrete and masonry industries showcase their latest offerings to contractors.
Registration for the 2020 show is now live and can be accessed here.
PRICING:
Exhibits-Only (EO) $80; $95 after 12/11/19; $105 onsite*
Exhibits-Only Spouse (EO) $80; $95 after 12/11/19; $105 onsite
Shuttle Bus (SB) (If NOT booking hotel through WOC Housing) $35; $45 after 12/11/19