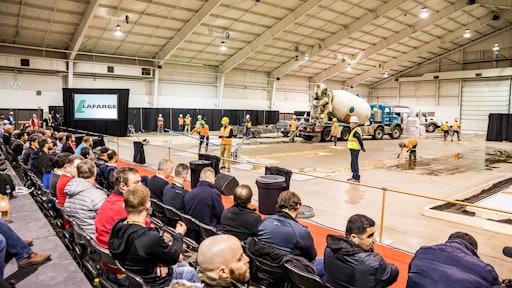 Registration is now open for the Canadian Concrete Expo (CCE), a national trade show dedicated to the concrete construction industry. The show takes place at the International Centre, Toronto, Jan. 22-23, 2020.
"After overwhelming support from years 1 and 2 of the show, we are proud to announce a larger show floor with more exhibitors, more equipment demos, more conferences, and more networking events," says Stuart Galloway, president, 2020 Show Productions, producer of CCE. 
The show has added new networking events, conference sessions on the latest technologies and contractor management seminars. The pre-show networking event takes place Jan. 21, 2020, at the Holiday Inn, 12th floor, and the Sunbelt Rentals mixer takes place on the first day of the show.
The show floor grew from 100,000 sq. ft. in 2018 to 200,000 sq. ft. in 2019 to 300,000 sq. ft. and approximately 350 exhibitors in 2020.
"In this digital age, very few trade shows are growing," says Galloway. "The show's continued growth demonstrates the value we are bringing to exhibitors and attendees." 
The show will also feature a variety of equipment demonstrations, including: 
How a volumetric concrete mixer can pour concrete with complete control of design, quality and quantity presented by Bay-Lynx. The company will be doing a test pour and walk through of the volumetric mixer's capabilities.
BIK Hydraulics Ltd. will demonstrate the company's new BIK Series Forming Crane—the FC-67—by unloading form cage panels from the top seat controls and also by radio remote control.
Manulift will demonstrate how Merlo productive and versatile material handling equipment can save you time. The company will demonstrate their radio controlled rotating telescopic handler handle concrete form.
Lafarge will exhibit full-scale, live and interactive demonstrations, while partnering up with BASF Construction Chemicals and Dayton Superior, to showcase the Lafarge Ultra Series FiberPlus Poly product line and the Artevia Exposed decorative concrete brand. 
Lafarge will also launch a new ready-mixed concrete offer to the Canadian market called CityBAG. It is among numerous launches expected at the show. 
Attendees can save 50% off the cost of registration by pre-registering at https://canadianconcreteexpo.com/register/.