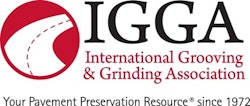 The International Grooving and Grinding Association (IGGA) – a non-profit organization dedicated to serving as the leading promotional and technical resource for acceptance and proper use of diamond grinding and grooving as well as pavement preservation/restoration markets -- has announced the election of new board members and the slate of officers for the 2011 year.
The officers for 2011 are as follows:
President: Pete Lewis of Penhall Company (Rogers, Minn.)
Vice President: Alex Ugalde of Hilti North America (Tulsa, Okla.)
Secretary: Tom Bonness, Jr. of CPR, Inc. (Elkhorn, Wis.)
Treasurer: Scott L. Eilken of Quality Saw & Seal (Bridgeview, Ill.)
Past President: Jenne Imholte-Decker of Simplex Construction Supplies (Minneapolis, Minn.)
Director: Jerry Voigt of ACPA (Rosemont, Ill.)
International Director: Charley Grady of Crafco (Chandler, Ariz.)
With more than 30 years of experience in the highway and concrete paving and concrete pavement restoration (CPR) industry, Lewis has expertise in concrete pavement, dowel bar retrofit (DBR), joint sealing and CPR. Lewis's many years in the industry involve his own company becoming a part of the Penhall Company in 1998. For the past 13 years, he has been the Regional Manager at Penhall Company and is responsible for all national contracts with preservation groups.
Having been a member of the IGGA for many years, Lewis has witnessed many industry trends and changes. According to Lewis, the industry has evolved with regards to the CPR and preservation market.
"Over the years, I've seen the hard work of the Association and its members come to life," recalls Lewis. "I look forward to what the future will hold."
Lewis said his goal for the IGGA in 2011 is to maintain the momentum in the CPR and preservation industry and continue to seek new opportunities by providing quality work, comprehensive training systems and continued relationship growth with local and regional DOTs.
Companies in this article